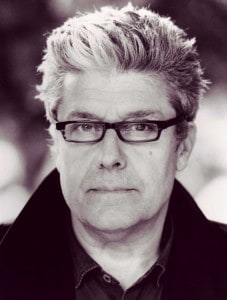 TheatreWorks' founding Artistic Director Robert Kelley and Managing Director Phil Santora proudly unveiled a line-up of shows coming to the SF Bay Area for the 2010-2011 season, its 41st anniversary. 3 of the 8 shows are world premieres: Auctioning the Ainsleys by Laura Schellhardt, A Christmas Memory based on the short story by Truman Capote, and The North Pool by Rajiv Joseph.
The 39 Steps which played recently in San Francisco will open the 2011 calendar year.
Up-and-coming playwright Rajiv Joseph whose Animals Out of Paper received praised at SF Playhouse earlier this year (review, on location), will stage The North Pool.
The season will launch with the return of TheatreWorks' celebrated New Works Festival, where Festival Pass holders may view works-in-progress by leading playwrights and composers, participate in discussions, and attend workshops, book-in-hand readings, and sing-throughs of new musicals. The highlight of the New Works Festival will be the World Premiere of Auctioning the Ainsleys on the mainstage.
Since its founding in 1970, TheatreWorks has become one of the nation's leaders in cultivating and producing new musicals, developing and premiering more than 50 works by new artists as well as veterans. The company's New Works Festival and Writers Retreat programs attract authors and composers of national stature (Paul Gordon, Marsha Norman, Henry Krieger, Stephen Schwartz, Duncan Sheik, Joe DiPietro, and Andrew Lippa, among many others), providing a solid place for America's musical theatre artists to create new works. In addition, the company has developed scores of works which have gone on to both regional and Off-Broadway productions.
TheatreWorks 2010-2011 Season

Auctioning the Ainsleys
by Laura Schellhardt

July 14–August 8, 2010 (press opening July 17)
Lucie Stern Theatre

The Light in the Piazza
Book by Craig Lucas
Music and Lyrics by Adam Guettel
August 25–September 19, 2010 (press opening Aug 28)
Mountain View Center for the Performing Arts

Superior Donuts
By Tracy Letts
October 6–31, 2010 (press opening Oct 9)
Mountain View Center for the Performing Arts

A Christmas Memory
Book by Duane Poole

Music by Larry Grossman

Lyrics by Carol Hall

Based on the novel by Truman Capote
December 1-26, 2010 (press opening Dec 4)

Lucie Stern Theatre

The 39 Steps
Adapted by Patrick Barlow

From the novel by John Buchan

From the movie by Alfred Hitchcock

January 19 –February 13, 2011 (press opening Jan 22)
Mountain View Center for the Performing Arts

The North Pool

By Rajiv Joseph
March 9–April 3, 2011 (press opening Mar 12)

Lucie Stern Theatre

Snow Falling on Cedars
Adapted for the stage by Kevin McKeon

Based on the novel by David Guterson
March 30-April 24, 2011 (press opening April 2)

Mountain View Center for the Performing Arts

[title of show]
Book by Hunter Bell

Music and Lyrics by Jeff Bowen
June 1-26, 2011 (press opening June 5)

Mountain View Center for the Performing Arts