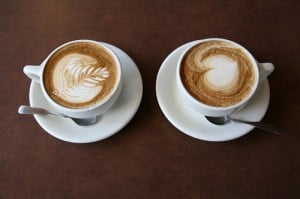 Good morning, and once again come join me with some no-holds-barred conversation over espresso. Please ignore the mooing cows.
Same as last week. The only difference this time is I'm drinking the strong stuff thanks to Nespresso. It saves me 10 minutes each morning. Imagine! I can do wonders with that. In Web 2.0 and new media that is an eternity and I'm learning to maximize every second, especially as we hang on to the sail that is liable to blow away any second with the winds of crazy growth.
Not that my beloved Pasquini is going anywhere. For the ultimate shot, there is no substitute. It's just sometimes I don't feel like working the grinder, and loading the portafilter just seems like too much, especially on a bleary-eyed Sunday morning.
I have so much to say, but I fear only a few minutes to write what's on my mind today. So let me get to it.
Canada vs. US eh
Later today, Canada faces the USA for hockey gold in Vancouver.
My blood is red. So is my flag. Well, red & white that is. It always will be.
I was born and grew up in Ottawa, the coldest capital on the planet. Trust me, I recall the fluids in my eyeballs freezing as I sprinted to my beaten up '85 Mazda (the sunroof had caved from a water bomb on Elgin St… a story for another day) and climbing through the hatchback, because the locks were frozen and the key wouldn't work. Yes, welcome to -40C degrees. You don't forget that.
And hockey. It's in my DNA. I remember Gordy Howe's greatest moments, most told to me by my father through the intercom next to my bed as I was too young to stay up that late. In the 1980s I was Wayne Gretzky. Well, at least on the school grounds at lunch hour when we played pick-up. I even made sure to use the same brand hockey stick.
I remember young Paul Kariya almost crying when he missed on a penalty shot against the fearsome Swedes.
I remember Wayne Gretzky's pass to Mario Lemieux to seal the win for World Cup.
I also remember Wayne Gretzky wearing the unwelcome Black and Silver of the L.A. Kings to take out pasta-eating Doug Gilmour and the Toronto Maple Leafs.
I remember my Dad telling me Ottawa would never again have a NHL team, and, then, in 1992 celebrating (along with Tampa Bay) the awarding of a franchise (Palladium!).
But most of all I remember skating in water, until way past dark, in the rain. We wanted to play the game as long as we could. Forever.
So, that brings us to today. Canada vs. USA for hockey gold in Vancouver. What could be better?
The red, white and blue have youth on their side. And the red and white have a scary roster of talent on theirs.
Twelve years ago I'd scowl at the Americans. Bastards! The enemy. No way, eh. But, after living here for twelve years things change. You realize the USA is truly a wonderful place. The people. The opportunity. The history. Absolutely special.
I used to bring a Canadian Tire water bottle with me to games when I play at the Logitech Ice Center in San Jose. I still do. Only now, I've written "U.S.A." crudely with a Sharpie to go alongside.
In the words of Molson: I.Am.Canadian. But part me of is also American. The country has afforded me (and so many other Canadians) tremendous opportunity. NAFTA is Canada + USA + Mexico. We should be proud of that.
Yes, yes, I know. Who am I rooting for then? Tell me already!
By now, of course, you should know: the San Jose Sharks. Also sometimes know in 2010 as Team Canada. Well now, how perfect is that?
With glowing hearts…
Cinequest Take Two
Last week the Cinequest Film Festival kicked off here in San Jose. This is our first time as a press participant here on SSC. We've covered it the past two years, but this year we wanted to cover more of it as it fit well with our position as Web 2.0 (or Web 3.0 as director Cullen Hoback likes to call it) new media for theater, arts, wine and tech in the Bay Area.
In a nutshell, CQ is an amazing experience.
People from all over the world fly in to tell their story. Drama. Comedy. Documentary. Short. Doesn't matter. We all share one bond. The passion for film and telling stories.
I'll never forget Aaron Houston coming up to me (twice!) to tell me about his short. Him, and two friends, drove down to San Jose from Vancouver to see their film premiere at CQ. What a thrill! And he handed me a screener. But he also handed me an odd coffee bag. When I got home I found it buried in a bag amongst hand written notes, business cards, a napkin or two, and some lipstick. It caught my eye. Score one for guerrilla marketing and creative energy. I love it. This to me is a large part of what indie film is all about.
I'm no expert, but please indulge me as I rant a little on some of the same old faux pas we see in indie film:
The extreme close-up: why must your camera be nostril-close?
Look at my trendy shallow depth-of-field: not everything in the background needs to be out-of-focus, every scene. Let us breathe a little, give some space.
Sex: yes, we know, sex is primal. Humans have sex. Babies often result.
Fascism: okay, got that.
Film school: you've graduated. So should your film.
5,000 edits: why not use none? The more distractions, the less people can relate to your story. Mood killer.
The quality of Cinequest 20, despite my outburst, is good. My informal early score, though, gives it to the Europeans. Granted we're not even halfway yet, my favorites so far are from the Netherlands, Denmark, Estonia and Austria. Yes, fine filmmaking is a global project.
Netbook Office On-the-go
Have netbook, will travel; new media style. If you are bleeding edge, you must—must—have a netbook.
And you must be able to publish in a nanosecond.
As I like to say: Publish or Perish.
text