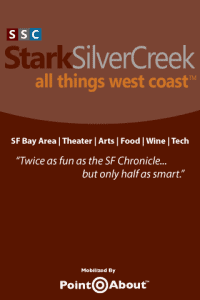 Now you can take the best of San Francisco Bay Area and West Coast living with you: theater, arts, travel, food and wine, the Baja, gadgets and tech. All the videos, photos and stories. Cinequest Film Festival. Reviews. Behind the scenes. Interviews, recipes and more.
We're pleased to announce that the StarkSilverCreek (SSC) Apple iPhone app is now available. It also will run on the iPod Touch.
You can download it now from the App store or from iTunes. Simply search for "SSC" to find the app. Or use the link below.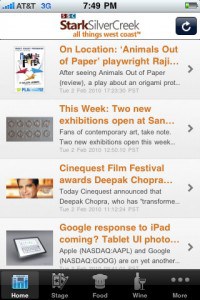 We've tried to organize the content as best as possible for mobile browsing so that you can easily view the categories you're most interested in. These "channels" include: stage, food, wine, technology, Baja, film, video, Arts TV, WineTube TV, Loreto Live TV, and the SSC Twitter feed. Of course, if you want the works, the home screen captures everything we do here… for better, or worse.
Go ahead and give it a download, see what you think. It's free. As always please let us know your feedback.
Us poor Androids will need to wait a little longer (BlackBerry too). Hey, we're just playing by the numbers. Yes, sadly, at this point SSC is only available on Apple iPhone (pity, that). Ironic, given yours truly runs around town with a Moto Droid. Then again, I don't read StarkSilverCreek… it's like listening to your own recorded voice—makes me cringe. But… it is twice as fun.
StarkSilverCreek (SSC) iPhone App

Name: SSC

Topics: SF Bay Area, Theater, Arts, Food, Wine, Tech, WineTube TV

Price: Free

Available: now

Download: link to iTunes

or Search: "ssc"