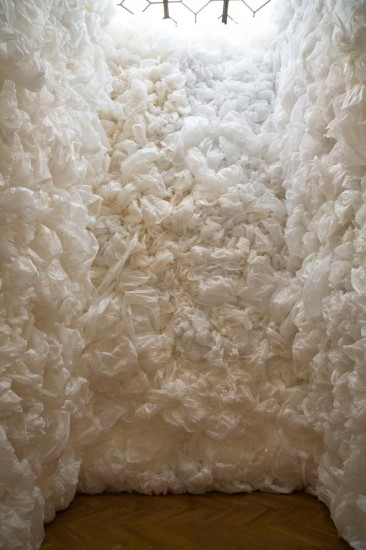 The San Jose Institute of Contemporary Art (ICA) will present two new installations opening in April 2010. Libby Black's Work Out will make its California premiere in the ICA's Cardinale Project Room on April 10 and run through June 19. Modesto Covarrubias: Liminal, an immersive sculptural installation by San Jose native Modesto Covarrubias will be on view in the Focus Gallery from April 10 to July 3.
An opening reception for both exhibitions will be held on Friday, May 7 from 6pm to 8pm. In conjunction with these shows, the ICA will host two Talking Art programs at the gallery from 7-9pm: a conversation with Libby Black on Thursday, May 13, and an evening with Modesto Covarrubias on Thursday, June 10.
Libby Black's sculptural installation, Work Out, is a life‐sized paper replica of a home gym replete with famous fashion brand accessories. Using paper, paint and hot glue, Black's Work Out presents a fantasy world of luxury goods. The artist has created a fully equipped shrine to fitness and consumerism including a Prada stationary bike, a Louis Vuitton bench press, a Burberry punching bag and a Chanel weight belt. The individual pieces are exact replicas of traditional workout equipment yet the luxury brand identification and detailing in the pieces reveal the decidedly DIY nature of the work. As a result, the hand‐made quality of the perfectly faux equipment and accessories reveal the seduction and deception inherent in the work.