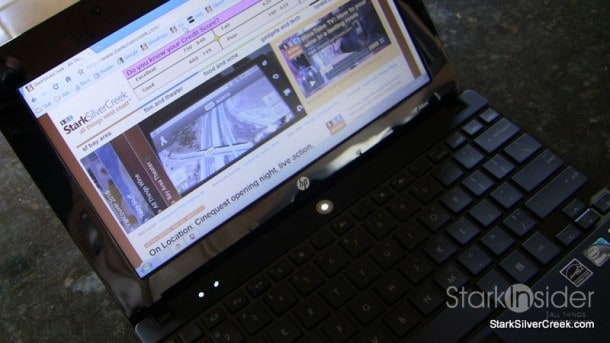 We just received a HP 5102 10.1″ netbook which will join the Toshiba NB305 in our comparo of 2nd and 3rd generation netbooks now available from the big guys. Which of these portables can go the distance, offer the best typing experience, and make for the best travel partner?
The HP 5102 is an update of HP's successful 5101, a member of their business line of netbooks. This means a slightly higher price, but it also means solid metal construction. It's immediately evident out of the box. Sleek lines, brushed aluminum. The Toshiba still feels well built in comparison, but the plastics are obvious.
Battery life will be a big issue for me. When I travel, I want to be able to go a whole day without power. Just me and my trusty Droid, along with the winning netbook, makes for the perfect on-the-go office. What more do you need? Well, aside from a shredder to get rid of those classified documents.
The HP came with a 3-cell a battery, and a 6-cell is on the way. Toshiba came fully equipped with a 6-cell, apparently rated at over 9-hours. We'll see over the coming weeks in our tests.
My initial impressions of the HP 5102:
Love the brushed aluminum, metallic construction
Sleek black lines, light, and well made
The trackpad is small, especially compared to NB305. Also, I don't like that it's shiny and leaves streak marks and is not as easy to use as the Toshiba. Plus it's not multitouch
No dedicated page up and page down keys means pressing additional key to scroll
Thumbs up for the sharp, anti-glare screen
NB305 wins the wake from sleep contest easily, almost instantaneous compared to the HP
HP: why does it take so long to complete initial Windows prep and install? Also, too much crapware!
Too early to evaluate keyboards, but the NB305 and 5102 score high here, so it may come down to preference