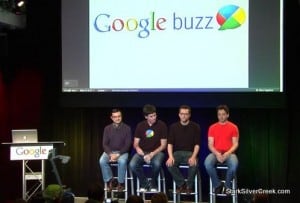 Google today, at their Mountain View headquarters, announced Google Buzz. Dubbed a new way to share, communicate within Gmail, "it's like an entirely new world in Gmail," the new service will be available using a "Buzz" link directly within Gmail. A new Buzz app for Android and iPhone is also coming.
"Organizing large scale information has become a real problem. It's a problem Google loves to solve," said Bradley Horowitz, Google VP Product.
Buzz is obviously another step by Google in an attempt to capture some of Facebook's momentum using real-time communications.
Many features are head-on responses to existing Facebook capability including '@' replies, commenting, 'likes' and inbox delivery of updates.
Buzz is available today to priority Gmail users (such as journalists) and to the rest of the world over the next few days.
Five new features were demonstrated live at the Mountain View headquarters.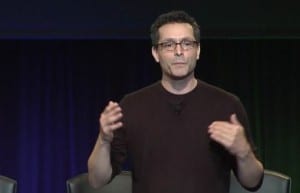 Auto-following – the first time you use the product, all your contacts are automatically followed
A rich, fast sharing experience – media including video, Flickr, Picasa. New built-in photo viewer that uses the entire screen. 'Like, unlike'. R to reply = comment. All the Gmail keyboard shortcuts work.
Public and private sharing – indexed by Google search, but can keep private.
Inbox integration – goes beyond regular email. Users can use '@' replies to resolve to profile names, and deliver Buzz items to other's inbox.
Just the good stuff – filtering out the noise.
Bradley Horowitz, VP Product Marketing, "I've got something exciting to share with you… increasingly there are more and more distractions impinging on our attention ."
He made reference to the original hand-coded Web directory created by Yahoo, two exits down Highway 101 in Silicon Valley:
They hired 10,000 people, "surfers," who manually updated it. Then things like AltaVista, Excite and crawlers came around as search algorithms came to the fore.

Then about five years ago came Google, not first, but the best.

We see the same thing happening now with social sites.

When you have 500, or 5,000 friends, it's becoming very difficult. It varies from the ridiculous to the sublime: "over-sharing, too much information." This problem is going to get worse and worse. This has become a large scale problem. A relevance problem. A problem Google is very good at solving.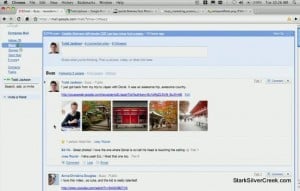 In addition, Google also demonstrated a mobile version of Buzz that enables mobile smartphone users to post content easily. The mobile apps are available for iPhone and Android at buzz.google.com.
Buzz is also integrated with Google's place directory of restaurants and other destinations. Users can now post comments using the Buzz app. Is this another shot against the bow of Yelp?
Also coming out today: a new version of Google Mobile Maps which includes a brand new "Buzz layer" that allows you to post comments, with automatic geo-tagging. Conversation bubble icons show the "buzz nearby".
Summary of 3 new product experiences to access Buzz: from Google home page; a brand new mobile app available for iPhone and Android; and a new version of Google Mobile Maps.
The announcement featured a series of live demos, a video, followed by a question and answer panel with the presenters, and Sergey Brin.

During the Q&A, Brin was asked about Google's lack of traction in the social services markets. Brin responded citing Orkut's success as an example. Others mentioned how similar Buzz looks to Facebook. Will there would be Facebook Connect integration? No, but it might be down the road.
Dress code was strictly "Google Casual"… worn jeans and t-shirts.
The service goes live, rolling out to priority Gmail users (journalists for example) at 11:00am Pacific Time today, then rolls out to rest of the world over the next few days.
Lingering questions: what about Google Wave? Will Google Buzz eventually supplant that less than successful product? Also, the name… does Yahoo have anything to say about it… they own Yahoo Buzz (trademarked).