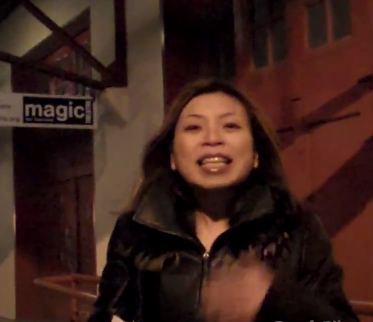 Independent media is a colorful and sparkling place to be. Every week we encounter something new, inspiring, funny in our never ending adventure to bring you a fresh voice in the world of theater, wine, travel, arts and tech. For every person that holds firm onto the past, denying the emergence of new, influential, media 2.0, there are twenty more that embrace it; jump right in with us, and seek to reach new audiences, new readers, new viewers in a fun, creative way. For that, we're eternally grateful.
I'm also thankful that director of production and general manager of Opera San Jose, Larry Hancock, would: (a) sing to Loni one of her favorites from Fiddler on the Roof in a wonderful, impromptu moment from our interview last week; and (b) that he would care enough about yours truly—the voice behind the camera—to warn me about the staircase I was about to tumble down (note: Loni did not seem too concerned).
Every week we produce these Gone in 60 Seconds videos since we know life is short, and not everyone has the wherewithall or care to sit through our longer stuff.
In these, you'll see a mix of what was, and what will be; sometimes we throw in silly minutia, daily life kind of things. Plus we include clips of upcoming interviews… the people, the places we go…
We appreciate your support. The more we can build SSC together, the more coverage of theater, arts, indy film we can bring; these are all areas that are suffering in terms of exposure (and patronage) here in the San Francisco Bay Area, because of the economy and cutbacks in traditional media. If you haven't already, please become a fan of Stark Insider on our Facebook page, and tell a friend or two about us!  PS – Twitter helps. Have a great week everyone, and thanks for supporting independent media!