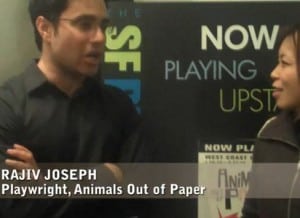 Another week of West Coast living here in the San Francisco Bay Area gone in just 60 seconds. Well, okay, again that doesn't  include the extra blooper stuff at the end, my favorite part.
Fans of Cinequest will see a sneak of what's to come in our continuing coverage of the 20th anniversary of San Jose's pride of independent film. Mavericks unite.
As usual we hit the streets. San Francisco, Berkeley, San Jose, Palo Alto, Mountain View. And everywhere in between. SSC was there to bring you the action. OVO by Cirque du Soleil moved to San Jose. Check out the behind the scenes action, as the team raises the Big Top, a $1.5M tent in downtown San Jose.
Lots of great shows opened, almost too many to track. The Weir (SJ Rep), The First Grade (Aurora Theatre), Dead Man Walking (City Lights), Rabbit Hole (Palo Alto Players), Fiddler on the Roof (SHN SF), and Animals Out of Paper (SF Playhouse). We're the third largest theater & arts market in the US, and with a lineup like that it's easy to see why.
Also in this episode, does Loni look slightly tired (and exasperated with my Brontosaurus ramblings) by the time we hit SF Playhouse at week's end? Still, we learn Brontosaurus = Lexus.
BTW – Am I really "ruining the show for everyone"?