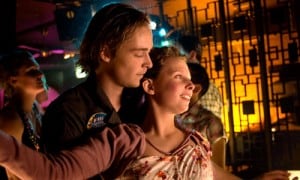 What if you lived your entire life in one day? And you'd have, but one time, to enjoy each moment: the first kiss, going to school, growing up,  making love. In Marc de Cloe's Life in One Day, Benny and Gini fall head over heels for each other in a place where life indeed exists in a single day. But they can't fathom their love ever ending. They hatch a seemingly clever plan to game the system, and ultimately spend eternity together.
Their destination? Hell.
Well it all sounds good in theory. Hell might be boring and hot, but, good news, we can spend lifetimes together!
Life in One Day is a love story. We feel the longing, the heartbreak of separation and distance that can come between two people who believe destiny is theirs. Indeed, love conquers all.
It's an inventive premise, and equally creative presentation. This film is a Dutch beauty.
Everything shimmers with good looks: the actors, the scenery, the city lights. Director Marc de Cloe actually makes two movies in one here. I won't give away the technique, but it works brilliantly, and captures two lovers on journeys that are both separate and overlapping at the same time. One scene on a park bench, for example, channels shared despair.
I knew we were totally engrossed when Loni kept telling me to "shhhh!" so she could hear the dialog in key moments. I'm not sure she realizes the movie has sub-titles. And as far as I know she doesn't speak Dutch.
We both agreed the first half was stronger. The film accumulates a certain burden thanks to several intriguing elements that in the end challenges the film-makers to resolve neatly. They do find a way, however, and it's definitely worth the ride.
Does love fade?
Making its North American premiere at Cinequest next week, I'd put this one high on your must-see list. It's one of my favorite screeners to-date.