Bill Gates is on a mission. In his continued leadership of all things philanthropy 2.0, he's shifting gears to take on climate change.
On Friday he spoke at TED about "terrapower," something I'd never heard about before. Chances are most people haven't. It's still under development, and could potentially never even make it to market. Still he thinks this new technology, based on reactors fueled by nuclear waste from disposal facilities or generated by today's power plants, is at least one more alternative that needs to be explored in the quest for zero carbon dioxide emissions.
"With the right materials approach it could work," Gates said. "Because you burn 99 percent of the waste, it is kind of like a candle."
Whether or not this is the right answer, or just another of several baby steps towards a balanced global ecosystem you have to applaud Bill Gates for his continued philanthropic leadership. His makeover from software visionary and one of the top, possibly the greatest, technology figures in history to arbiter of change, champion of the earth is truly impressive.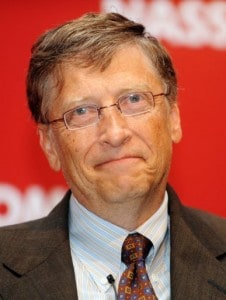 At Microsoft, Gates was often criticized for creating a giant, slow-to-innovate, monopoly that squeezed profits out of consumer forced to upgrade every year to the latest bloated shrink wrap operating system or office suite. There's partial truth there. But Microsoft ultimately made computing mainstream, brought power to the masses and, thankfully, developed an easy-to-use point-and-click way to use computers (along with Apple, yes).
A few years back I attended a Berkshire shareholder meeting in Omaha, Nebraska. It was a chance to see his good friend, Warren Buffett, the Oracle of Omaha, in person, holding court, next to straight man Charlie Munger. It was equal doses entertainment and business gospel. Bill Gates was also in attendance. The pair have stoked a well publicized friendship with plenty of shared ideas, occasional games of bridge, and, more recently, major forays into the world of philanthropy.
I've yet to see the TED video from his presentation, but I'm sure it'll put a smile on my face. It's wonderful to see someone who's reaped rewards from capitalism, spend another lifetime pouring it back, along with an investment of personal time, into solving large-scale challenges facing humanity.