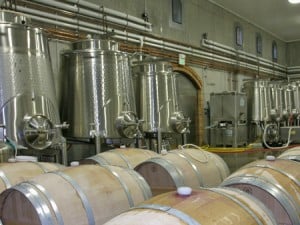 Welcome to wine marketing, the most mysterious black box of them all. Recently I wrote about Harlan Estate and their minimalist, high quality parchment paper approach to traditional mailings. This week I received another mailing, this time from another boutique winery, Blankiet Estate based in Yountville.
For reasons I can't explain, I enjoy analyzing marketing, and branding. Be it wine, cars, gadgets or travel, I'm drawn to logos, the messaging, the positioning. Being in tech and marketing for so long will do that to you I guess. It also gives me pause to think about StarkSilverCreek and what kind of messages we're sending out to the world. Often, there can be a disconnect between what you want and what you think you're saying, and what others perceive; I often find myself in this ditch, shoveling.
Perhaps above all industries, wine is the most difficult to market—part of that has to do with the challenge of differentiating in a crowded marketplace, where every bottle of wine looks the same. Hence the importance of the label, at least to some. Also, there is the consumer. For the most part we still need to be educated. Vintages, varietals, vineyards. That's a lot to remember and figure out when all you want is a simple Chardonnay to pair with a seafood dinner with friends.
The most interesting aspect of wine marketing, though, is perhaps related to price.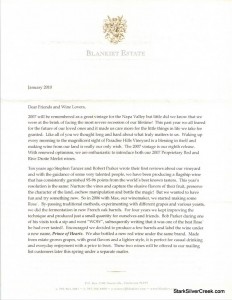 Unlike cost based pricing, where the price can be calculated by adding up the cost of all the parts used to assemble the product, and then adding a margin on top (4% for example), wineries are likely to use some form of value model. Not value as in bargain, or deal. But value in terms of perception.
For example, recently at the auto show here in San Jose, I enjoyed strolling through the Ferrari exhibit, historic models alongside new ones. Sexy sheet metal as far as the eye could see. The price tag of a Ferrari though, unlike luxury wine, can be traced to actual physical costs; not entirely, but I suggest the gap is less pronounced. Let's take the list price on a F430 of about $227K US. When I look at the car, I can see it—the supremely engineered engine, the brakes, the Italian sculpted body lines. It's expensive, but I sense that what I'm paying is close to what it costs. And like wine, it too is largely handcrafted.
Wine, on the other hand, is nebulous by comparison. Sure, there are differences in grape pricing from various vineyards, vintages. Also, aging and barrels make a difference. But the delta between the cost and the ultimate price is more variable, and usually, wider than it is in the auto industry. Supply and demand is another key factor that influences the market, especially at the collectible level.
All of this to say: it's not a cult winery. As Blankiet Estate states in their letter, it's "small artisanal winery"
Got to love marketing.