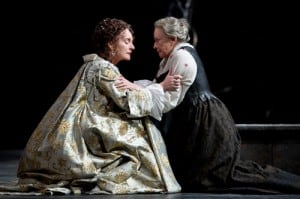 No one can ever accuse Carey Perloff, ACT artistic director, from shying away from a challenge, even if it means staging a tricky, complex French play written in the 17th century. In 2008, she was invited to Canada's Stratford Shakespeare Festival to workshop a new translation of the classic tragedy Phèdre. Last night the production came to the Bay Area with Stratford actors, including Canadian stage star Seana McKenna, in tow, and Perloff directing.
And what a unique show it is. You would be right in calling it a fascinating hybrid. Perloff did, after McKenna said, "I'm curious to know where we stand in this play. Our characters pray to Greek gods, but we're wearing 17th-century French costumes while speaking the text in a modern traslation underscored with music by an experimental American composer."
The story centers on Phèdre (Seana McKenna), a woman caught in an agonizing love triangle with her husband, Kind Theseus of Athens (Tom McCamus), and his son by a former lover.
Yes, it's incestuous, torrid.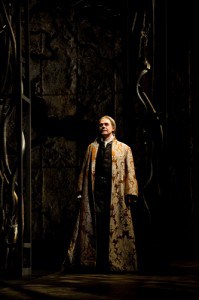 The presentation, however, is classic. There are no set changes, no special effects. Musical is minimal, arching between each of the five acts.
What is left is the juicy, poetic dialog by Jean Racine. It's often magical, sometimes  jilted and stubborn. Allow yourself the chance to soak in its mesmerizing rhythym and nuance, and you'll be swept into Trézène, a coastal city south of Athens. But it will require commitment on part of the viewer. This is classical theater; classy and unflinching. From the opening act, dramatic tension engulfs the stage, never relents. There are a few light moments, but despair, jealousy, and, ultimately tragic violence, rule the land.
The King is dead Phèdre!
The gods are called upon frequently, including Neptune and Venus. When Phèdre's secret horror comes to light, all hell breaks loose.
Seana McKenna commands the stage, effortlessly transforming her scenes into something special. Also, on this evening, Tom McCamus was a standout, his deep voice resonating across the theater with rage, then despair. When either of these two are on stage, the show's energy elevates a notch or two.
Unfortunately, the other actors are not quite on par. Many scenes, including the opening, betwen Hippolytus (Jonathan Goad) and Théramène (Sean Arbuckle) don't  feel as sincere as they should, and ultimately lack emotional connection. Occasionally, the stage looks like a chess board with pieces awaiting their next command.
The set is remarkably simple, yet effective: six columns, a small fountain pond, a table and an imposing stone backdrop. I'm constantly amazed at what exceptional lighting and stage design can do to add depth, texture. In particular, the columns with their twisted ironwork and metal add dramatic shadows and even an industrial feel to the set; again, contributing to the hybrid theatrical presentation. The contrast of the colorful, elegant 17th century costumes is strikingly vibrant.
I loathe myself more that you can hate me.
At times last night I wondered what it was like watching this in 1677. Was it the soap opera of its day? It seems every character has some issue, persistent complaint. Phèdre, though, a tragic heroine through-and-through, accepts responsibility, and her fate.
The ending, like Shakespeare, is a dismal affair, literally. A feel good show this is not—and surely polarizing. But the story is so compelling, and the presentation so fresh that it's an intriguing evening of theater.
Phèdre
by Jean Racine (1677)
American Conservatory Theater, San Francisco
3.5 out of 5 stars
Directed by Carey Perloff
Starring Jonathan Goad, Sean Arbuckle*, Roberta Maxwell*, Seana McKenna*, Sophia Holman, Claire Lautier*, Mairin Lee, Tom McCamus*
Translated and adapted by Timberlake Wertenbaker (2009)
Presented in association with the Stratford Shakespeare Festival, Stratford, Ontario, Canada
* Member of Actors' Equity Association, the union of professional actors and stage managers in the United States
Thru February 7, 2010