Faeries, a lost child, forlorn love and haunting tales warm a small pub outside Dublin, Ireland in The Weir that opened Friday at the San Jose Repertory Theatre. Conor McPherson's play is intense, an emotional roller-coaster that leaves you somewhat winded, and drained.
As the wind howls, a group of locals ("heads") gather at a village watering hole to enjoy a pint, shots, and fags. An easy-going, reserved bartender, Brendan (Alex Moggridge) serves up all night long, with a ready smile, and open ear. Jack (Robert Sicular), the owner of a small garage, revels in telling story after story. Later, slouched and introverted Jim (Mark Anderson Phillips), Jack's employee, walks into the pub. He curls up on a stool at the far corner of the bar, often mumbles to himself, brooding.
Then a mysterious newcomer to the area, Valerie (Zillah Glory) appears with cocksure businessman Finbar (Andy Murray) who is showing her the area and introducing the locals. But why would a beautiful girl like Valerie want to move out of Dublin to a place like this, in the middle of nowhere?
Innocent stories give way to dramatic tales, that reveal secrets, trauma, and tragedy.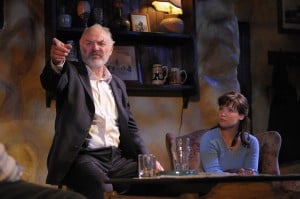 Does the local weir (a type of dam), looming in a black and white photo in the back of the pub, play some sort of role in the seemingly paranormal happenings? Or, perhaps, the Guinness, Harp, whiskey are fueling creative license, and foggy memory.
Ghost stories are an Irish oral tradition, and Conor McPherson gives us poetic dialog, including beats and pauses that remind me of playwright John Kolvenbach (Goldfish). This is what drinking ballet might look and sound like in an Irish pub past midnight. The layer of innocence and chit-chat gives way to deep emotional scars. And just when you think the heads might succeed in scaring away poor Valerie, a turn of events, involving tears, trembling and fear, shocks the entire pub. Again, the questions. Was it really a wrong number, or was the paranormal emerging from the mist?
The acting in The Weir is supreme. Some of the best I can recall seeing at The Rep. The believability index here is to the max. Tears are real. The chemistry genuine. All of it gives the material tremendous weight. Jack Sicular was spectacular—alone, worth seeing the show.
And the drinking!
By the end of the evening, empty glasses of all types—pint, half, shot, "wine"—litter the tables amidst cigarette butts, ashtrays.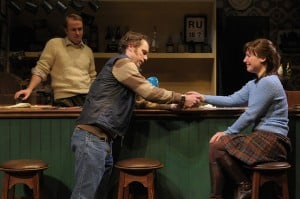 The set works wonders in transforming the 500-seat Rep into a cozy pub, fire smoldering quietly in the corner. Some past productions have been criticized for not working well on a larger stage. The designer chose to build the set right out front, mere feet away from the audience. This was a good decision that enables us to be right there, up close. There are plenty of areas across the set that are used in a variety of scenes including the aforementioned fire, tables in the middle, the bar itself, and a small nook with photos at the rear of the pub.
This is obviously a different kind of play. Dialog heavy. There are no fisticuffs. No dramatic sounds or music. Just Irish storytelling, with an occasional heated argument settled with another argument about who will buy drinks to amend.
My issue, though (at least for North American audiences) with Conor McPherson's script is that it is deep in Irish culture, and deep in locale. You must engage with utmost attention. At almost two hours (with no intermission), it can tax your brain a tad. Then again, that's probably partly the point. McPherson, like a stout pint of Guinness, is dense, occasionally bitter, and dark.
So, pull up a stool, grab a pint, and enjoy an evening of blistering tales, eerie encounters and heartbreaking stories.
The Weir
San Jose Repertory Theatre
3.5 out of 5 stars
By Conor McPherson
Directed by Rick Lombardo
Starring Robert Sicular, Alex Moggridge, Mark Anderson Phillips, Andy Murray, Zillah Glory
Through February 21, 2010