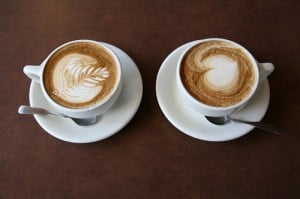 We had a great holiday up in Canada over Christmas. I was reminded once again that a Harvey's hamburger is a beautiful thing. Take that In-N-Out burger. There's a reason why NHL players flock to the place, commandeering the team bus to the closest Harvey's.
2010 could be a remarkable year on several fronts, especially many areas we cover, discuss, contemplate, photograph and video here on StarkSilverCreek.
Wine, for example, is an industry undergoing metamorphosis in the US from gangly teenager to young adult. Bad wines are really not made anymore. It's about preference mostly now. Do you like bold reds? Sweet whites? Wine marketing is also transforming as its target buyer has grown in knowledge, sophistication, expectation.
Education used to be a requirement, not so much anymore. And a larger part of that has to do with the explosive growth of the online community around wine. Aside from gadgets and tech, it's more social than anything else we cover on SSC. That's exciting. Live tastings over Twitter. Tasting notes via Twitter. Hundreds of winery Facebook fan pages. Blogs. These are vibrant times for the wine community.
Theater and arts, like wine, faced tremendous obstacles in 2009. The sales were not there. When people cut back, they cut discretionary spending and going to the local theater is unfortunately often a casualty. I hope that changes in 2010. As do many people. Also, I'd like to see theaters (and the Arts community overall) get on board the social and Web 2.0 train more aggressively. On this score, wine has a significant lead.
There are signs though that theaters are reaching out to a younger generation. Rick Lombardo enthusiastically announces the Twitter hashtag before performances at the San Jose Repertory Theater. Several theaters offer promotions via Facebook. Berekely Rep recently used a fun photo shoot in the lobby where patrons could try on costumes on a mock set. These shots were then posted to Facebook. All of these are examples of next generation loyalty marketing. Coming soon: Foursquare, and geo-location based promotions and marketing.
Gadgets and technology move at a torrid pace in one respect, but are the same old in others. For example, the landscape of giants is virtually unchanged year over year: Microsoft, HP, Apple, Google, IBM, SAP, Adobe, RIM.
Impressively, Google became a mega-force in the cell phone market in a matter of a few years demonstrating that there is room for innovation and new business models.
Loreto, Baja, one of our favorite travel destinations, is a small fishing town with big aspirations. We bought a vacation home there in 2006, and finally saw it through to completion last year. The development itself has seen its fair share of ups and downs over the years. There is much to be done before the Loreto Bay development is truly a thriving, desirable community, but it shows several signs of progression. We'll have lots to say, in videos, in photos and in editorials throughout 2010.
As many of you that have followed StarkSilverCreek since the early days know it's one of our favorite and most passionate topics. You know, now that I think about it, there might even be a story in there worth telling…