Alltop, founded by Silicon Valley marketing legend Guy Kawasaki, is gaining momentum. At least based on the number of sites it is indexing, and the number of mentions it is getting across the Web (also: see Alexa chart below). Now, you can find StarkSilverCreek on there too. But first, what is Alltop?
Alltop is in simplest terms a portal. It provides a snapshot view of all the leading web sites and blogs on any number of topics—"aggregations." Another way to describe it would be as an uber newsreader with quality checks and balances built in. One site to rule them all. And knowing Guy Kawasaki's reputation, I'd expect his goal to be none other than world domination. But of course, it's the Silicon Valley way.
I admit I was skeptical last year when I checked out the service, but it has come a long way.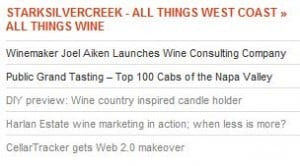 Part of my issue was not related to Alltop itself, but Kawasaki's incenssant self-promoting Tweets about it. Well, I guess it's working. And I supposed I should cut a fellow hockey player a break.
The site is simple to use. Search for your favorite topic and after a click you're presented with all the latest headlines across leading sites and blogs indexed by Alltop.
You can find StarkSilverCreek indexed across several topics.
StarkSilverCreek on Alltop