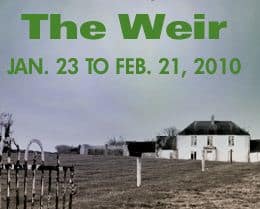 Nothing like a pint of Guinness beer to loosen up actors for an interview. Listen in as the cast of The Weir by Conor McPherson, opening tomorrow at the San Jose Repertory Theatre, share stories on the set of the upcoming production.
What is a weir? How is American culture different from Irish culture when it comes to storytelling, tradition? And also, why does Loni think artistic director Rick Lombardo is the "Valerie of San Jose?"
Find out in this second part of the cast interview where it starts to get interesting.
Valerie has moved from the city of Dublin to rural Ireland. Her real estate agent, Finbar, brings her into a pub where a group of lonely souls seek refuge from the bluster of the outside world. By telling stories, they create a haunting and poetic sense of family to break the silence of their isolation.

When they discover Valerie has moved into a house considered "haunted," the tales of the supernatural begin. Small mysteries evolve into eerie astonishments as the ghostly storytelling soars into liberating confessions of love, loss and loneliness. Half-hidden wounds are revealed throughout an evening of drink and ego-driven rivalry for Valerie's attention, bringing these drinking buddies together in unexpected and deeply felt ways.