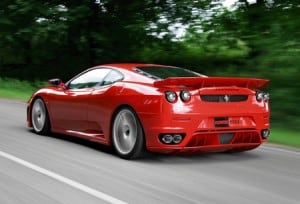 The start of the year means auto shows; rotating presentations, free-bees, popcorn, green marketing, muscle cars, test drives, models (not just the cars). And even some magic 2.0. Then there are the big questions this year. Maybe some not exactly politically correct, however I stand by my assertions in this video. Should a woman really drive a Porsche 911? Or do they belong in a "softer," feminine car like a Lexus? (see video below)
It was Ferrari heaven. Although I wish there was more space to allow the cars to breathe, and give us some better viewing angles. In some ways, you could almost have an even better experience just dropping by Santana Row on Ferrari day. There owners pop the hoods, and you can enjoy plenty of car talk. Still, they had lots of eye candy here. Thankfully, there was no plastic Lotus Esprit James Bond car from the Spy Who Loved Me anywhere in sight. Ditto for the Batmobile. I do not miss those carnival add-ons.
There was plenty for the kids. The least of which was the boobage-fueled WWE display out front. No, I'm talking about the super sarcastic (and very funny) magician who snorted magic markers, made popcorn out of Chevy logo, and ripped off a guy for $20 (well, almost).
The huckster in front of the Rolls Royce display was on a roll: "fiber optic headliner that lights up… awesome" … "and a wine cooler under the rear seat…" Or something like that. And all while getting 11-18 mpg. Life is good.
I missed Audi, Porsche and Mercedes. Where were all the Germans? The BMW display was even footed by a local Moutain View dealer. But it was decent.
Lexus and Acura had great exhibits; lots of space, models, and things to see and do.
I liked the Ford Ride & Drive out front of the San Jose McEnery Convention Center… drive it like a rental! We didn't get a chance to test drive any of the cars. Like all shows, we ended up spending almost 3 hours. The time flew by. When we got home, our legs and feet were aching.
All of this was a warm up for later that night when we attended the Bill Graham charity concert at The Fillmore in San Francisco. Talk about memorable! But that is another post, another video… for another time (you'll see if I won a signed Green Day poster for $300 at the silent auction).