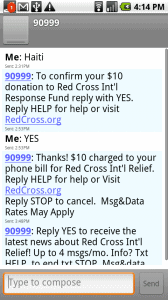 Like everyone else, I'm astonished, saddened about the news, images and stories coming out of Haiti. You have to wonder: why Haiti, one of the poorest countries (80% of its 9 million residents live in poverty)? It puts everything in sharp, sobering focus. You know the headlines so I don't need to repeat them here. CNN, though, calls it "absolutely catastrophic." My work here at SSC seems hard to comprehend in light of this tragedy. I find myself somewhat embarrassed by it all.
I realize it's just a small token effort, but every bit counts, so I thought I would mention the Red Cross International Relief fund. A donation is as easy as a text message.
Simply text the message "Haiti" to 9099 and a $10 donation will automatically be made, and charged to your cell phone bill.
The effort has raised over $1.2M to date. A drop in the bucket no doubt, but one more bit to add to the larger programs.
I have high hopes and expectations for the global community, and our leaders to take swift action. Also, I'm hopeful stories of inspiration, determination, perseverance will emerge.