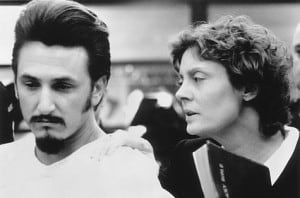 The weekend answered a lot of questions, including who won the on-the-go smartphone challenge this time: Loni's  iPhone or Clint's Droid? At the risk of sounding like a broken record, there is so much quality theater and arts in the Bay Area, you could possibly bottle up all the creativity and send Woody Allen into space.
Dead Man Walking – World Premiere in San Jose
There's a lot to be proud of here in San Jose (other than the Sharks). Opening this weekend is the first presentation by a theater company of Dead Man Walking, based on the iconic movie starring Susan Sarandon and Sean Penn. Sarandon won an Oscar (best actress) for her work. We caught up with director Amanda Folena (wonderful new hairdo and all) at a cafe alongside the bustling streets of Santana Row to talk about the play premiering at City Lights Theatre Company. Last time Amanda and Loni got together, it was a classic moment of laughter, and dance—and butt shaking, and a shimmy or two. Stay tuned for the complete interview on SSC Presents. Wouldn't it be great if Sean Penn made a special appearance to support the production?
Beer and work
I've learned that being on location for interviews go oh-so-much-better with a nice Guinness beer.
And, yes, that would be a first, at San Jose Repertory Theatre I was able to sip a nice brew, while working. Really, do I need to complain and whine so often? The Weir, an Irish play by Conor McPherson, opens at San Jose Rep Theatre later this month, and we had a chance to catch up with the cast, and director Rick Lombardo (also artistic director). It was a taste of storytelling, and things to come. We have the full multi-part interview; part 1 comes out later today. You're going to enjoy this one I think.
Beer and sausage (with NFL)
Let's see, what else. Oh, what do you "pair" when watching NFL playoffs and drinking Duvel? Sausage, of course. With nice spicy mustard from Japan (thanks Sanjeeva!). Better, you cook the sausage in beer. The host knew what he was doing. Unfortunately the Arizona Cardinals did not.
Mysterious egg
Loni had so much fun backstage with the Cirque du Soleil OVO cast, rock-climbing, skateboarding underneath the stage, and trampolining that she decided to update her Facebook profile pic… the crickets even match her jacket. Yes, I know, riveting news.
San Francisco Symphony
On Sunday we took in some chamber music by the San Francisco Symphony at the gorgeous Davies Symphony Hall. I preferred the opening trio (viola, flute, harp) to some of the later material.
iPhone vs. Droid
Oh, for those keeping score… try taking an after party photo with an iPhone as we did after Avenue Q at Morton's. Result: black screen (the iPhone has no flash). Droid to the rescue. +1 on this weekend for Droid. Loni, try again.
Homage: Dario Argento and David Lynch – Did you spot them?
Film buffs, pay special attention to the StarkSilverCreek "On Location" videos we shoot… you may see a homage in there to your favorite film maker. They're subtle. To help you out, I've referenced at least two of my favorites: Dario Argento (master of Italian horror… and thus widely misunderstood; an acquired taste I admit) and David Lynch (master of cerebral, odd, twisted). You might be able to spot my little salutes, however silly, in the Spring Awakening and Cutting Ball Theatre (for The Bald Soprano) on location shoots.
PS – is it just me or is Audi really knocking it out of the park with their recent car designs? R8 is brilliant. As is the A5/S5. To my eye, works of rolling art.