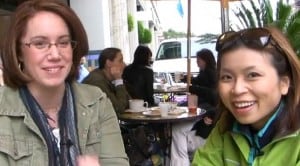 The film is famous. It scored Susan Sarandon a best actress Oscar. And Sean Penn cemented his legend. Now Dead Man Walking, the landmark film that made a real-life nun an international role model for forgiveness and atonement, is coming to San Jose. This weekend will mark the first time the film has ever been performed by a theater company. San Jose can thank City Lights Theatre Company for that. Amanda Folena (last seen talking and dancing with SSC here) is directing the heart-wrenching and thought-provoking production, based on the same Tim Robbins' script.
Do you believe in capital punishment?
The play is sure to revive the question again. No doubt, reaction will be strong on both sides.
"We are the first theater company to produce this show," says Amanda Folena, director. "We're sort of testing the ground. We're the pilot to see how it works out at a theater company. I can't tell you how many people are so excited and it's going to be a wonderful experience."
In this episode of StarkSilverCreek Presents, Loni meets up with Amanda at a cafe in Santana Row in San Jose to talk about the production.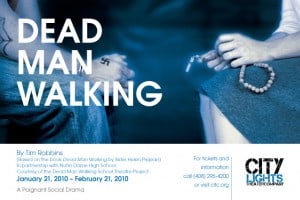 Also, she recounts her experience meeting Sister Helen Prejean and describes what it's like to hang with a whiskey drinking, card playing nun.
The death penalty and forgiveness are important topics that come up in the conversation as well. As Amanda says, "What I hope is that people leave the theater and just talk about it. Talk with other people. Provide discussion."
She continues, "Obviously I'm against the death penalty, I don't believe it's a viable solution, but when I meet people that are for it I sense a lot of anger. Forgiveness, or that willingness to let go of the hate … that's what Dead Man Walking is about. I truly believe that people are transformed not by being loved, but by the act of loving someone no matter how hard it is."
Dead Man Walking opens Saturday, January 23 at the City Lights Theatre Company downtown San Jose. It's sure to be a production not to be missed.
A death penalty awareness benefit takes place on January 29 at Notre Dame High School with special guest speaker, Sister Helen Prejean, CSJ.