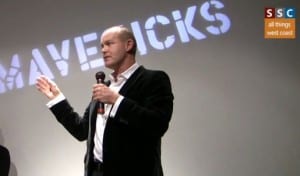 Last night at the Works Gallery in downtown San Jose, the Cinequest team revealed the Film Festival 20 lineup including some of the stars, films and events. Opening February 23, the festival has been extended by an additional day this year to allow for encore screenings and a "Maverick Academy Awards Party." Some of the stars that will be on hand: Benjamin Bratt, Brian Cox, Paul Dano, Pierce Brosnan, Susan Sarandon, Carey Mulligan, Zach Galifianakis from The Hangover (don't worry Darnisha, I don't think anyone can pronounce his name on the first try!), Callum Blue, and Mathew Modine.
The media launch party was packed, and filled with energy; nothing like some great food, wine and music to bring out all the would-be Mavericks. When the formal presentation began about an hour later, the news came fast, and with much gusto.
"We've had a very unique and strategic position in the world of film," said Halfhan Hussey, Cinequest co-founder and executive director. "All the headlines coming out of Sundance said 'we're returning to our roots,'" he continues, "But we never left ours. We'vebeen  building that tree for 20 years thanks to the people in this room and many others."
Here are some of the highlights.
Deepak Chopra
The surprise announcement of the night was the winner of the Life of a Maverick Award for 2010: Deepak Chopra.
It was a surprise for several reasons. First, the deal was sealed earlier that day, so the news is hot off the presses. But, for me at least, I thought: Deepak Chopra? Film? Really?! Turns out, you learn something new every day. I always knew he was a glowing, happy person. But turns out he is very much involved in screenplays and film. A career change of sorts? Currently, he is working on The Sadhu, a comic book series based on the character of the same name. I think Loni needs to sit down with Deepak Chopra for a deep conversation on StarkSilverCreek Presents.
Empowering Youth
Two new divisions are being launched. 'Picture the Possibilities' will launch this summer across 5 cities, to empower youth to tell the stories of their lives. The goal: how can we change your community, improve the world? A world premiere event will then take place some time in the Fall.
Cinequest Maverick Studio
'Cinequest Maverick Studio' will be a sister LLC to the non-profit of Cinequest which will produce, distribute and market A-list motion pictures, episodic television and new media.
Maverick Artist & Innovator Forums
There are several opportunities for aspiring film makers, lovers of film and fans of technology to take in some presentations from leaders from Intel, Panasonic, Dreamworks and dynamic artists. Mark your calendars, presentations include:
The New Distribution (Fri. Feb 26, 1:30pm-3pm)
3D Cinema (Sat. Feb 27, 1:30pm-3pm)
Mastering the Art of Maverick Filmmaking with the Olson Borthers-Filmmaking Workflows Powered by Adobe (Sat. Mar 6, 1:30pm-3pm)
Day of the Writer
Writers will want to block Friday, March 5 on their calendar to take in the "Day of the Writer," the event for aspiring and seasoned writers, plus those who are curious about the science behind the laugh. Three sessions will allow you to learn from legendary panelists who have spawned multiple films and shows that include "Spiderman," "Family Matters" and "Home Improvement."
Cell Phone Cinema
SanDisk has launched their "Phone Flick Contest" which showcases 60-second films. A winner will be chosen based on your votes. Vote for your favorite and enter to win a smartphone. There are a few ways to participate: Text "Cinequest" to 76274. Watch the 60-second films shot on a phone, on your phone. Then vote. Or you can visit www.youtube.com/sandisk.
Just remember: save them to a Sandisk memory card…
Psycho Donuts
These people are psycho! The donuts too! Check out the cameos in the video.
Mav•er•ick
An unbranded calf, apart from the heard
An original who takes the path less traveled