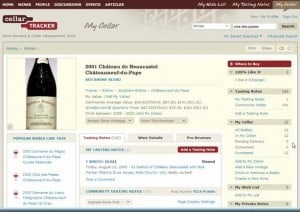 I've written so many times about CellarTracker, I've lost track… maybe even more than the Moto Droid. That should tell you how much I like it. It's a must-have service for us.
With a growing cellar, and bottles aging from all over the world, it helps us keep track of it all. Otherwise who knows, we might just miss the optimal drinking window for that Etude or Harlan Cab that Loni has squirreled away.
Now Eric Levine, CellarTracker founder, has announced a user interface makeover. It's been in the works for a while, which suggests he is nursing it, incubating it, and testing it carefully. The redesign is most welcome, as the current interface is somewhat dated and techy looking. But it works very well.
For fans of cellar management, this is a great update from Eric.
CellarTracker by the Numbers

5th year anniversary (founded 2003, public 2005)
15.5M inventory botles inventory (50% growth in one year)
1M tasting notes and reviews
Approaching 100,000 users