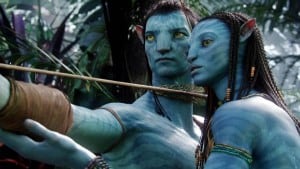 With over $1B earned in only 17 days, Avatar has demonstrated that: (a) people still go to movies if offered something compelling they can't get otherwise get at home; (b) blue creatures are popular; and (c) James Cameron can afford a 2010 Toyota Prius.
Now, Blu-ray is going 3D.
Last month the specification was finalized by the Blu-ray Disc Association, and several manufacturers will likely make splashy announcements at CES this week.
"Throughout this year, movie goers have shown an overwhelming preference for 3D when presented with the option to see a theatrical release in either 3D or 2D," said Victor Matsuda, chairman, BDA Global Promotions Committee. "We believe this demand for 3D content will carry over into the home now that we have, in Blu-ray Disc, a medium that can deliver a quality Full HD 3D experience to the living room."
The big question on most consumers minds will be: oh, no, do I need to upgrade… again?
The answer is unclear at this point, although the likely answer is yes. PS3 owners, however, may be luckier, since the players are software upgradeable.
With all of this rage about 3D it feels a little bit like 1950. But, will 3D be here to stay this time, or go down in red and blue fuzzy flames?
About the Blu-Ray Disc Association

In 2005, the Blu-ray Disc Founders announced the creation of the Blu-ray Disc Association. The Blu-ray Disc Association, or BDA, re-incorporates the Blu-Ray Disc Founders group, but is now a voluntary membership group open to any corporation or organization with an interest in creating, upholding and/or promoting the BD formats. Those organizations engaged in research, development and/or manufacturing of any BD products or interested in developing and improving the BD formats are also encouraged to pursue membership. Furthermore, the group welcomes any company wanting to learn more about the format as it evolves.

The aim of the BDA is to:
– Develop Blu-ray Disc specifications
– Ensure Blu-ray Disc products are implemented by licensees according to the intent of the specifications
– Promote wide adoption of Blu-ray Disc formats
– Provide useful information to those who are interested in supporting Blu-ray Disc formats