Tonight, Avenue Q presented by Broadway San Jose, opens downtown at the Center for the Performing Arts. The show is the fourth in a wickedly entertaining 2009/2010 season which has included Spamalot, Spring Awakening and Riverdance. The story is familiar, but the presentation is likely different from most Broadway shows you've seen. Jim Henson this is not. Princeton, a bright-eyed college grad comes to New York City with big dreams and a tiny bank account. He soon discovers that the only neighborhood in his price range is Avenue Q; still, the neighbors seem nice.
According to reviews and articles about the long-running production (it opened in 2003), what follows is a non-stop barrage of laugh-out-loud puppet antics including dancing, singing, and, yes, even cursing.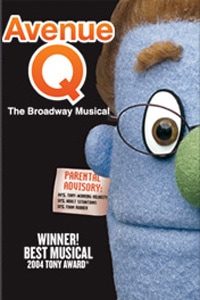 It's sure to be an adult evening, but is it appropriate for teens or children? I'd say no to children, but for teens, the Avenue Q team says "AVENUE Q is great for teenagers because it's about real life. It may not be appropriate for young children because AVENUE Q addresses issues like sex, drinking, and surfing the web for porn."
It won the 2004 Tony Award winner for Best Musical, Best Score and Best Book. So, expect a rollicking good time tonight, and for the next five days (to January 17th). If you see insane-looking people stumbling downtown around 10:30 with goofy grins, now you'll know what they've just watched. And it wasn't the San Jose Sharks.