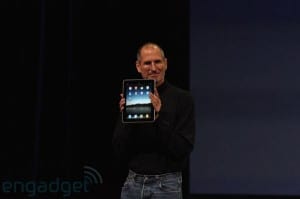 The cat is out of the bag. Possibly one of the most hyped products in the last decade of tech was announced today by the wizard of tech himself, Steve Jobs of Apple (NASDAQ:AAPL), in San Francisco. Called the iPad, the 9.7-inch device will seek to slot into the "middle ground," somewhere between a smartphone (iPhone) and a laptop/netbook (MacBook).
The iPad comes in multiple configurations, starting at $499. The most expensive model with 64GB, 3G wireless will cost $829. That does not include 3G wireless service which will run $29.99 for unlimited data from AT&T (NYSE:T). Wi-fi is included in all models.
Apple says the battery will last 10-hours. What will people use the iPad for?
Jobs says, "Browsing the web. Doing email. Enjoying and sharing pics. Watching videos. Enjoying music. Playing games. Reading ebooks." And why the iPad over a netbook or smartphone, "If there's going to be a third category, it has to be better at these tasks. Otherwise it has no reason for being."
The iPad weighs 1.5 pounds, and at only 0.5-inches thick continues the Apple tradition of envelope-pushing industrial design. Indeed, it is the intersection of technology and liberal arts.
The keyboard, like most portable devices today, is virtual. An add-on accessory provides a dock and physical  keyboard that props the iPad up for a standard laptop-like experience.
According to the presentation, Apple is now the largest "portable mobile devices" company in the world. The strategy could not come at a better time. The portable market is booming. Desktops and even laptop sales are slowing as netbooks, smartphones and presumably tablets such as the iPad capture the hearts of consumers. Apple just finished a record quarter, with $15.6B in revenue.
Included in the iPad is an iBooks app that is sure to capture notice from the folks at Amazon. Partnerships include several publishers including Penguin, Macmillian, Simon & Schuster.
The iPad will ship in 60 days, with 3G models arriving in 90 days.