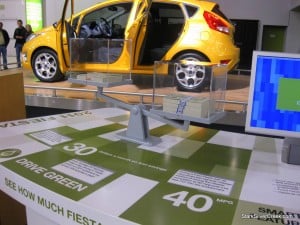 Auto manufacturers trot out their latest and greatest at the 2010 Silicon Valley International Auto Show taking place this weekend at the McElroy Convention Center downtown. By noon today crowds were pouring through the exhibit halls. Fans of exotics will enjoy the exhibit of Ferraris, Lamborghinis, Aston Martins, Bentleys, and that ostentatious Hollywood display of wealth (or greed?), the Rolls Royce.
By the way, here in the US owners drive them; in the UK, owners sit in the back while the chauffeur can enjoy gobs of power and a fiber optic starry headliner in the $480,000 car.
But for the rest of us, there is plenty to see (with some unfortunate, absentees – more on that below).
Crossovers are trendy. BMW, Acura, Ford, Chevy, and others are all over the latest craze. Baby-boomers will do just about anything to disguise the fact that they're driving a station wagon.
Marketing folks will tell you that they're for active lifestyles. And there's probably some truth to that. You get the versatility of  a small truck, with the handling, comfort of a luxury sedan. The Acura ZDX is a notable entry in the category.
Muscle cars are back. More of a 2009 story, they're all here in plenty of variations and paint jobs including the Chevrolet Camaro, Ford Mustang, and Dodge Challenger. You get retro style with contemporary engineering for prices in the $30K range. Not bad.
Green, of course, is everywhere. Hybrid this, hybrid that. A battery here, a battery there. Not only is the technology green, but so too are the paint jobs, posters, exhibits. Even the local magician hired by Chevrolet to entertain kids was in on the green, making a green $20 bill disappear before launching into an entertaining blurb about the Chevy Volt.
Loni's personal picks: BMW 3-series (the perennial), the new Lexus IS350 convertible, and Toyota Prius.

My picks: BMW 6-series, Toyota Prius (and I'm very excited about the Chevy Volt), Lotus Elise (ultimate go cart).
You may notice the lack of photos from certain German marques. Audi, Porsche were no-shows. In fact, BMW was not officially represented either, with cars on display furnished instead by a local Mountain View dealer. The Swedes—Volvo, Saab—also apparently passed on the show.  That's too bad for a show that makes a strong "international" claim.
The good news is Detroit is here in full force with expansive displays by Ford, Chrysler, GM. And it'll please many to see some of the best innovation come out of America. The Ford Fusion Hybrid, Chevy Volt, and Chevy Traverse are all strong models.
Crowds gravitated towards family sedans, sports cars, and hybrids. It seemed less busy around the large trucks and SUVs.