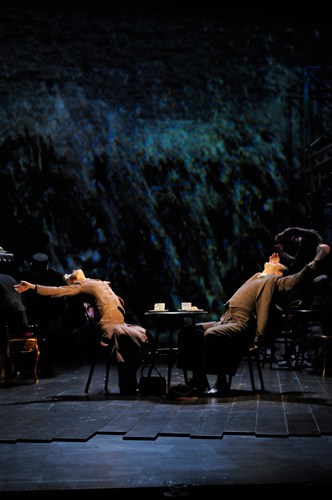 Last year—yes, can you believe 2009 is now last year?—was a terrific year for Bay Area Theater (and Arts too!).
A creative tsunami struck. It was as if the deeper the economic malaise, the stronger the surge in creativity, imagination and artistry.
It was a pleasure to be a tiny part of it all, and we're looking forward to more in 2010.
So now the important question: what was the best show of 2009?
Big theater. Small theater. Musical. Drama. Comedy. Irreverent. Classic … all are welcome … 
This is not a scientific question; there are no formulas. It really comes down to entertainment factor and gut feel. When you left the theater at the end of the show, were you moved? Did you want to immediately see it again, even if it meant flying to New York to catch the East coast run? Or did you simply have indigestion—one too many Skittles?
I have several memories and favorites. But first, I thought I'd recap some of the stronger reviews over the past year from StarkSilverCreek; shows that scored 4.5 stars or higher would be a good place to start.
Best of 2009: 5 stars
A Christmas Carol (American Conservatory Theatre, San Francisco)
The Creature (Black Box Theatre, San Francisco)
Brief Encounter (ACT, San Francisco)
Peter Pan (Berkeley Playhouse)
The Kite Runner (San Jose Repertory Theatre)
Best of 2009: 4.5 stars
A Civil War Christmas (TheatreWorks, Palo Alto)
The Seafarer (San Jose Stage Company)
The Wizard of Oz (Berkeley Playhouse)
Groundswell (San Jose Repertory Theatre)
Awake and Sing! (Aurora Theatre, Berkeley)
Yellow Face (TheatreWorks)
One Flew Over the Cuckoo's Nest (SF Playhouse)
Mauritius (Magic Theatre, San Francisco)
At Home At the Zoo (ACT, San Francisco)
The Great American Trailer Park Musical (San Jose Stage Company)
Boleros for the Disenchanted (ACT, San Francisco)
What about American Idiot?
Perhaps glaringly absent from the list, and I'm sure somewhat controversial, is Berkeley Rep's white-hot American Idiot. It was, undoubtedly, the biggest story of 2009. A rip-roaring success. Talked about across the entire country; and, in 2010, on its way to Broadway. Suburbia never looked so good. The music, of course, based on Green Day's brilliant album of the same name, is also, well… brilliant. The energy is infectious.
Ultimately, though, the characters are thin, and as I suggested in my review, amped up too much on nihilism. A glimmer of hope, please? Then again, when I rethink it, I suspect it would dull the message. Of all the shows I saw last year, this is the one I'd like to revisit.
Keeping it fresh
Small theater houses took risks and brought us unique material.
Most of it came from San Francisco; theater houses that continue to ratchet up the innovation include SF Playhouse, Cutting Ball Theater (and sister Black Box Theater), and Magic Theatre. An evening at any of them is something special. You're not likely to see Gone With The Wind.
I remember watching people bounce of walls, literally, in the quirky, absurdist play The Bald Soprano at Cutting Ball. It was clever, challenging. And a lot of fun. She Stoops to Comedy at SF Playhouse re-imaged As You Like It into a wild romp of reality distortion, not to mention the twist on gender identity. Magic Theatre delivered crisp, dialog vibrato with John Kolvenback's repertory of Goldfish and Mrs. Whitney.
For the kids
If I was choosing best of 2009 for kids, the award would easily go to Berkeley Playhouse. During the summer they put on a charming version of Peter Pan, complete with dancing, music, and acrobatic flying stunts. Really impressive. They followed it up with a slightly re-imaged version of The Wizard of Oz that again showcased triumphant children's entertainment.
Holiday shows did not disappoint
Thankfully, December offerings were not lumps of coal. I'll be the first to admit I dread the parade of standard, worn-out Christmas fare (with an exception for The Nutcracker, and It's A Wonderful Life).
I laughed a tonne at guilty pleasure, and cult classic, A Christmas Carol at the San Jose Repertory Theatre. Leg lamps. Red Ryder. It was a hoot, without cloying sentimentality. Then there was the jaw-dropping extravaganza A Christmas Story at ACT. Wow. James Carpenter as scrooge, what could be better?
Aurelia's Oratorio at Berkeley Rep was another jaw dropper (I do a lot of that). Okay, yes, maybe I'm easily impressed. But to watch her swing high above the curtains entangled in red ropes as the entire structure rocked side-to-side was something I won't soon forget.
A Civil War Christmas was a classy production by TheatreWorks with elegant sets, rich costumes and historical drama.
My pick: Best of 2009
Drum roll, please… Noel Coward's Brief Encounter at ACT, San Francisco. Best show of 2009.
Yes, the story is simple; an affair. And it's an old one. But this was the most entertaining experience I had all year at a theater. When I left ACT and walked across Union Square the imagery, the emotion, the music… it came across me in, well, waves. I told Loni next time we needed to see the show in New York. We had to see it again.
Thanks to Carey Perloff we were able to enjoy this spectacle of first-class theater by Kneehigh Theater from Cornwall, England. A bloody good show.
Honorable Mention
It's really hard to pick just one show. There are so many that made the hairs on my neck stand up. Or left me amazed. Or moved me to tears (almost, let's not get crazy here).
The Creature blew me away. I remember grabbing a bite before the show with Loni at Sushi Rock in Potrero Hill, then winding our way to the inconspicuous, condo-like Thick House Theater. Little did I know what was in store. With James Carpenter, one of my favorite Bay Area actors, I suspected it might be good. But not this good! It was a classic, 30's style radio show come to life. Haunting. Mesmerizing.
The Kite Runner at San Jose Rep was also astounding. The story of an Afghan boy's childhood and travels to the United States based on the book was moving, and at times, heart-breaking. It demonstrated the wonders of live theater: bringing us new perspectives, experiences.
Happy New Year! Thanks for visiting StarkSilverCreek.