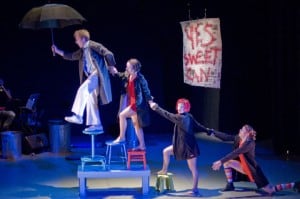 "Oh God, no!"
A performer from the inspiring Yes Sweet Can was approaching me in the front row at last Friday's show. That's all I could say, and think.
It's one of the risks of sitting close to the stage, or in the case of the intimate Dance Mission Theater at Mission and 24th, literally on it. Fortunately, to my relief, turns out she only wanted my chair. I would not be walking on one hand, or hula hooping with the cast after all. Consider it a win for all involved.
This show is all about the unexpected.
Sweet Can Productions was started in 2006 (by Beth Clarke, Kerri Kresinski and Daniela Steiner) and consists of an ensemble of eight. Yes Sweet Can is their second production, inspired by the 2008 election of Barack Obama.
I wondered how the show would hold up after seeing Cirque's grand, budget busting OVO the previous night.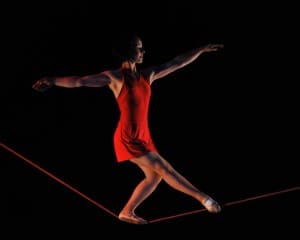 It turns out very well. And, of course, Sweet Can is going after something different with its artistic, stripped down display of circus-inspired gymnastics and dance. Their goal with the show is to bring "levity, pleasure and inspiration to people in difficult times." I think they succeed on all accounts.
Using ordinary objects—a broom, newspapers, bricks, ropes—the troupe bring to life a windy world where individuals occasionally shine on their own, but ultimately companionship prevails. With energy! Each of the 4 performers stomp, jump, balance, swing, dance, hop, climb, fall, bounce, cartwheel, piggyback. Sometimes all at the same time. Sweat will fly. Gusto indeed.
There is no dialog or talking. Some singing, yes. In between acts, we get to discover this alternate universe only through the performer's actions, sometimes mini vignettes, such as when a server precariously balances a coffee cup, milk pitcher, spoon and container to impress an unconvinced patron.
Doors open frequently exposing the little world to dramatic winds that send the actors flying, spinning and tumbling across the stage. Newspapers, too, are read, torn and also take flight. Perhaps a message about our information-rich lives? Individualism vs. society at large? The answers are for you to figure out.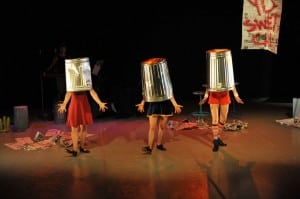 All of the performers (Beth Clarke, Kerri Kresinkski, Natasha Kaluza, Matt White) are talented, each with a unique superhero-like power. Acts include slack rope, a flying broom dance, hand balance, a super duper hula hooper, and more.
The music is a surprise bonus. EO spins grooves as the theater fills, then seamlessly integrates into the show himself with an eclectic assortment of electronica, fusion jazz, funk, dance. I especially like when he plays the trumpet along with some of the recorded beats. It's dynamic, and really adds to the production.
Later, when we left the show and headed down Mission Street, Loni and I talked about how wonderful it is to have these types of intimate theaters putting on such engaging shows. Thanks to Sweet Can Productions, it's yet one more reason why San Francisco is a special town.