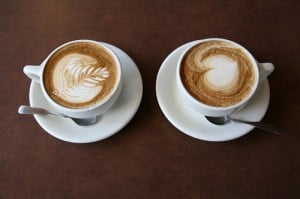 For some crazy reason I thought things around here might slow down, every so slightly, with the holiday season in full swing. Instead, our calendar of events, interviews, reviews and shenanigans around town has taken on a Santa Claus-like girth. Then again, we prefer it that way.
My bah-humbug attitude towards holiday theater has abated in the last few weeks. Now I find my cheeks rosy, an extra splash of eggnog in my step.
How can you not savor every second of the first rate shows now playing around the Bay Area? A Christmas Carol (ACT), Aurelia's Oratorio (Berkeley Rep), Seafarer (SJ Stage), Another Night Before Christmas (City Lights), Christmas, My Way (Hillbarn), Cinderella (African-American Shakespeare), Holiday Memories (Coastal Rep).
Tiger: "Profoundly sorry"
Why be sorry (that's so 2004) when you can be profoundly sorry?
Being just sorry—you know, the basic, aw-shucks, eyes to the ground kind— is for us common people.
When you've amassed hundreds of millions, and become the #1 sports marketing personality in the world, you have the right to be profoundly sorry. It's at least 100 yards more impressive.
Plus, with millions watching,  a plain old apology only has enough cleaning power and resonance to make it past one or two porn stars.
Cinequest Celebrates 20th Anniversary in 2010
To say we're excited about San Jose's very own Cinequest film festival would be an understatement. Celebrating its 20th anniversary in February, the event has captured attention around the world, and is playing an increasingly influential world of independent film.
Earlier this year, Kevin Pollak, Louis Gossett Jr. and Diablo Cody received individual Maverick Spirit Awards.
Kevin Pollack gave an entertaining stand-up routine before the ceremony with plenty of impressions, including his infamous and dead-on Jack Nicholson. Also it was the first time I saw Twitter take center stage with a celebrity. Pollack brought his iPhone on stage during the interview portion and waxed poetic about the technology. One example he gave was a search for a video camera. What model to buy? He tweeted for advice, and seconds later received several recommendations.
Almost 20 other awards were also handed out to a diverse group of film-makers. Halfdan Hussey and his team do a superb job of organizing the event, turning downtown San Jose into a real treat (and tier 1 destination) for film lovers of all ages, types.
We've been working our way through the catalog of Cinequest DVD releases. There are so many gems in there. It once again reminds me how some of the most creative, enduring works are the ones without the massive marketing budgets and sky-high billboards.
I'm excited to learn that Sean Penn was the winner of the Maverick Spirit Award nomination contest. He'll be invited to the festival to receive the highest honor. But will he show? He's one of my all-time favorites. There are so many films that have left a memory: The Falcon and the Snowman, Dead Man Walking, State of Grace, and even guilty pleasures Carlito's Way and The Game. Let's give a mulligan for Shanghai Surprise (with then wife Madonna). But give a fried chicken dinner for his genre changing role in Fast Times at Ridgemont High (my high school in Ottawa!)
Stay tuned to SSC for Cinequest coverage. We're looking forward to hitting the streets of San Jose in search of more Maverick films.
Costco: The Ultimate Leading Economic Indicator
Want to know if the economy is getting better or worse? Go to Costco. Watch carefully. You'll know in a heartbeat where things are headed if you do it enough.
The indicators are the uber-size shopping carts. Their contents will speak to you. They will either say I'm full of non-discretionary, non-fun stuff like bags of carrots, milk cartons and diapers. Or they will say, let's party, with a full-on basket of gadgets, flat-screen TVs, and 8ft. bats with LED eyes.
Recently, it has unmistakably been the latter.
This time last year, it was potatoes and loaves of bread as far as the eye could see.
Now it's truck loads of battery operated gizmodo.
The economy is getting better. Costco says so.
Take a look and tell me if I'm right.