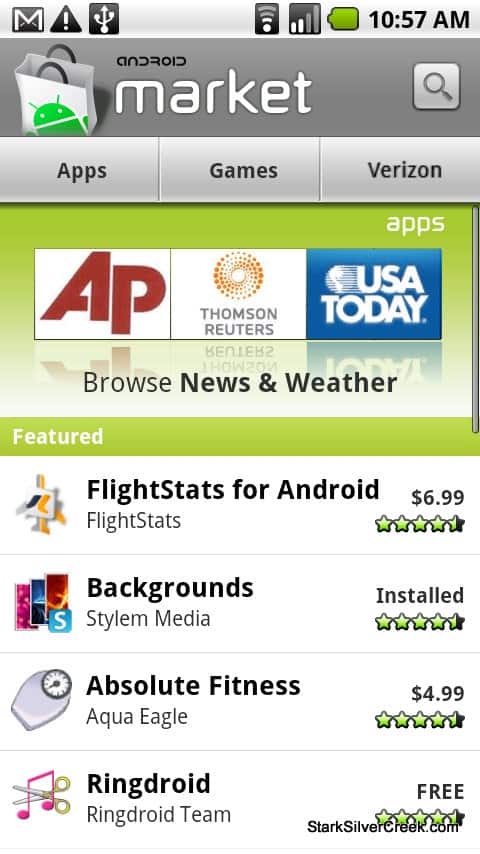 Advertising on mobile apps is not a crime. In fact, it's a perfectly legitimate way for developers and companies to recoup some costs for apps they create for free and publish to the Android market.
However, I do take issue with a handful of nefarious people who are using non-sanctioned brand names (USA Today, New York Times, Wall Street Journal, etc.) to draw attention to their downloadable apps.
The goal—aka scam—is simple.
Capture your attention with the brand. Get you to download the app onto your device (the Moto Droid for example). Then run Google ads to generate income. Plus, I can't help wonder what else these types of apps are doing—phishing, planting viruses, stealing personal information from your contacts and email apps?
One example is a publisher called Monseta. They offer a bunch of "mobile web" apps that do exactly as I described.
Fishy odor indeed.
Some of the brands they abuse include Barnes & Noble, Ning, Typepad, Travelocity, Microsoft Windows, Bloomberg, Verizon, Fedex, Twitter, The Washington Post, JC Penny, USA Today, Adobe, BusinessWeek, HP, AOL… you get the idea.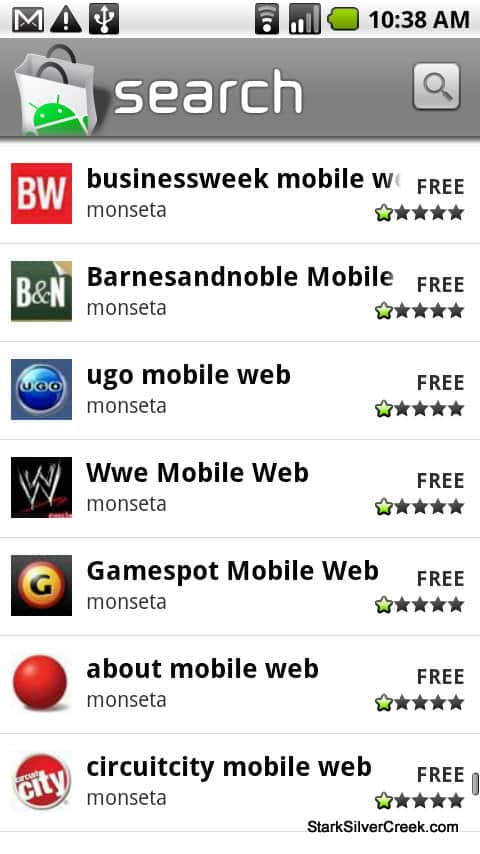 All told, 186 so-called apps from Monseta are available for download today, just waiting to push ads, to possibly dig around your phone for data, and to cross-promote more of their apps.
Thankfully, the rating system on Android Market helps somewhat. They typically have 1 or 2 star ratings, in addition to negative comments.
On the BusinessWeek app, a user said "This is spam.. dont down load!!!!!"
The apps for financial services such as Chase and Wells Fargo are particularly alarming. And Google needs to put an end to that. One comment on the Wells Fargo app: "App is just an attempt to get you to download this guys browser. Do not download its just a shortcut to wells website! I'm uninstalling."
I'm sure Google has some sort of approval process… I think.
Apple has been notorious for over-zealous control of apps getting onto iTunes. But there is plenty of security and consumer protection that comes out of that. I hope Google too employs tight controls to ensure the Android Market doesn't become a spam-ridden marketplace; like a worn-down dollar shop. Granted, it's not even close to that currently. It's actually well done, with plenty of great apps across multiple categories. But when it comes to personal security and privacy, you can never be too careful these days. Just ask Facebook.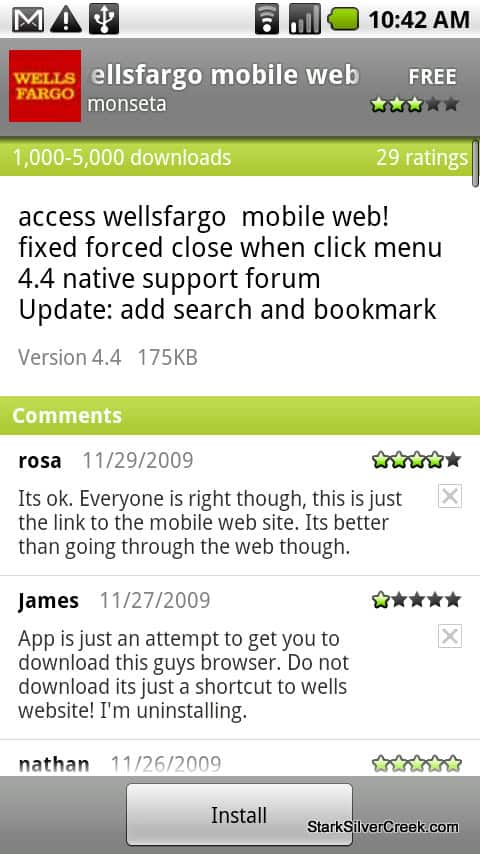 Fortunately, users can complain. At the bottom of the download screen for any app is a button, "Flag as inappropriate." There you can submit a complaint for something objectionable, hateful, sexual, abusive. However, I'm not sure if this feedback is effective. I can only imagine heaps of requests coming in to some overloaded inbox somewhere within the shiny Google campus in Mountain View (or maybe India).
About Monseta, the current king of Android Market spam: I can't find any other additional information or background on the developer. Their email is just a gmail account. There is no web site link or further information. Of course, it's very easy to find the link to all their apps. This is another issue. Google needs to enforce a baseline of publisher information including full contact information, web site, and bio. After all, we're trusting this code on our phones. So there should be a minimum of consumer protection in place.
So, be careful out there. My advice would be not to download apps from non-recognized developers.
It will be interesting to see if Google makes changes to their approval process in the coming months. Spam, as we all know too well, grows exponentially and wrecks a good time for all.