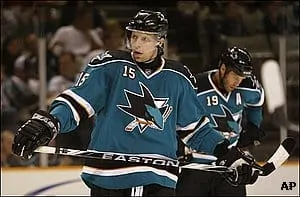 My old hometown NHL team, the Ottawa Sens—who, did you know, won a Stanley Cup back in 1912?—is in town tonight at HP Pavilion to take on my new hometown team, the powerhouse Sharks.
The match-up is especially interesting due in part to the off-season blockbuster trade that sent Dany Heatley here in exchange for fan favorite Jonathan Cheechoo and speedster Milan Michalek.
More than that trade bond the two teams. Unfortunately, both have garnered well-deserved reputations as underachievers.
Year-in and year-out the results are the same: strong regular season followed by abysmal, disappointing playoff exit. Both have been earmarked in recent years as Stanley Cup favorites.
It will be interesting to see the fan reaction tonight.
My prediction: Sharks win 4-2.
What do you think?