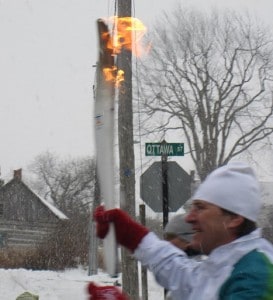 We just had the most amazing time on Sunday. In the morning, we carpooled with friends to the wee Ottawa Valley village of Almonte to cheer on Brian Carty who was chosen to carry the Olympic torch a designated 300 metres.
The atmosphere was upbeat with everyone smiling and happily encouraging the torch bearers.
Brian was perfect. Elizabeth Manley, the winner of the Olympic Silver medal in Women's skating in Calgary in 1988, carried the torch before Brian.
Later, for a potluck in Brockville, Brian arrived in his torch bearing outfit, holding the flame high. We all had our photos taken with the torch.
Brian elaborated on the experience:
3 minutes to walk/run the 300 meters
18 seconds to get in the van which returned him to Almonte town hall
Signature of the Bombardier factory worker who made the torch inside
5 minutes of torch flame time
We shared an Olympic moment with great friends.
Olympic Torch Bearer Factoids

Each torch bearer runs 300 m.
12,000 torches were manufactured by Bombardier.
Each torch is signed by a Bombardier team member.
The 300 m must be completed in 3 minutes or less.
There is 5 minutes of gas stored in the flame.
The bearer's suit is free but the torch costs $300. Brian bought his.
The flame is activated by a key which unlocks the gas cylinder.
The cylinder is removed at the end of the 300 m.
Chevrolet provides and services all vehicles.