Talk about a disappointment, and then some. Based on expectations and early hype, we had high hope for the political satire November now playing at the American Conservatory Theater in San Francisco. But it's a turkey. Maybe two of them. Blowing up in unison.
There is just not much here, other than a one-note SNL-like skit that runs on far too long. The story involves a buffoon in the white house and his bumbling staff. Yes, that's the extent of the originality.
All the characters are shallow, slapstick. They love profanity. It's used repeatedly as a cruch for meager laughs.
Then the stereotypes march out: a lesbian, the usual lines about Jews and even a blowgun-bearing Indian chief. At points, the play even becomes somewhat offensive (and I don't think I'm a prude… I play hockey; the dialog lacks refinement and depth to elevate jolting language beyond anything other than jolting language).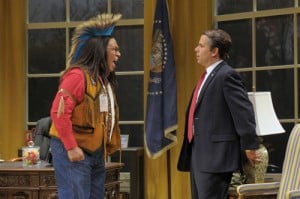 There are laughs here and there. In small doses, separated by stretches of more cursing and inane buffoonery. Yes we get it, the President is a goof ball. And I know this is farce, but it's a major league disappointment.
ACT has brought some great stuff to stage such as Boleros for the Disenchanted, At Home At the Zoo, and, most recently, the magnificent Brief Encounter. If those are major league works, this is basement amateur hour. At least the material anyways. The acting is decent with many familiar ACT players. Andrew Polk, especially does well as President Charles Smith—convincing, with good rhythm.
For fresh, "savage" political satire, with intelligence, I recommend Tiny Cushner.
November
1.5 out of 5 stars
American Conservatory Theater (ACT), San Francisco
by David Mamet
Directed by Ron Lagomarsino
Starring Andrew Polk, Anthony Fusco, Manoel Felciano, René Augesen, Steven Anthony Jones
October 23–November 22, 2009

Noteworthy

Anthony Fusco's voice is easily recognized, possibly even in a crowd of 10,000 people; it's very distinct and measured; it adds an interesting layer as witnessed in War Music, At Home At The Zoo and now November.
Look for campaign buttons just outside the theater!
Once again, top marks to ACT for the always classy and informative "Words on Plays" booklet; it is truly a joy to read… more so, in this case, then watching the play unfortunately.
Postperformance Audience Exchanges: 11/3 (7 p.m.), 11/8 (2 p.m.), 11/11 (2 p.m.)
The San Francisco Halloween crazies were out in full force; it's fun spectacle to witness… just hang around Union Square and take in the scenery! (an on location video to come here on SSC)