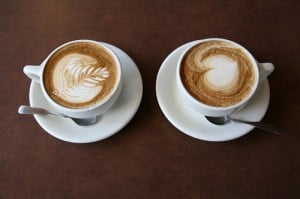 Another week, and I'd guess another 1/2 pound or so of dark roast espresso beans. It's jet fuel. The days come in thirds, and increasingly blurred, blinded: espresso in the morning, Diet Coke in the afternoon, wine in the evening. Repeat. Try to wash, and try to hit the gym.
SSC is turning the corner, maybe. Hockey sticking, possibly. Flat out keeping us busy, for sure. But I won't talk about that too much this morning. You know, people hate that. I'm busy. Oh yeah, I know, you're busy too. We're busy. Life is busy. Okay, okay. Let's all agree… it's busy. And it's a lot of fun. Type A personalities unite.
For newbies to this column, you haven't missed much. In fact you may never miss a thing if you never come back ever again. This is the second week. And, again, it's a dark roasted, unfiltered, rambling… occasionally I apologize, bitter.
Droid
Not since the launch of the iPhone itself has a new phone created such buzz. And, boy, does Motorola need it. Remember the RAZR? That was the slick, cool looking thing from a few years back. Everyone wanted it. By today's standard it was lame, spec wise. Then Moto fell off the map. And like RIM (BlackBerry) and several other cell manufacturers, was slammed by Apple's monstrously successful market entry.
So how do we score Moto so far on their re-entry… a come back, call it?
I'd give them an A- so far. Excellent buzz marketing. Superb gotta have it factor.
Further, based on the early reviews, the Droid product itself is delivering on the promise, if not quite an iPhone killer (ps – nothing ever will come close until an iTunes killer is offered in tandem).
Also, the Moto strategy is hard to beat: partner with Google and Verizon to create a viable iPhone competitor. It's hard to bet against Google. Their baby Android mobile OS will become a major force. It's an open strategy vs. Apple's proprietary (and higher margin) approach.
All this to say: I'm getting a Droid. Not to sure how to do it. Which is one reason I've take marks off Moto's score. They should have a simple online form that does the trick. Instead, I have to go in to the store next Friday to fight lines, and all the other early adopter geeks like myself that gotta have it. Ah, memories of Wii. Best Buy offers pre-order. But I'm moving from AT&T to Verizon, so I'm dubious if they can make it all go smoothly.
(note: see below for my quotes in a Droid article in the business section of the Pittsburgh Tribune)
Blog influence
Blogs, new media, web publications are gaining influence. No secret there. One reason I'm guessing: the raw, straight-from-the heart, often brutally unedited and mistake ridden content actually increases credibility in many cases. This is because we're not watered down by political, corporate or editorial agendas. For better, or worse.
The other reason is the void created by diminishing old media budgets and coverage. That's sad really. Especially for typically uncovered subjects like Theater & Arts. Check out the San Jose Mercury News. To read any of Karen D'Souza's excellent coverage, you have to click to the second page of mercurynews.com (Entertainment), then scroll way down to the bottom, then click again on Arts. Miliey Cyrus, balloon boy, Michael Jackson… plastered all over. Like we can't find that stuff anywhere else. Or would want too (except MJ of course).
I was watching CNN the other day with Loni, while typing away furiously on an SSC article and simultaneously working with our production "team" on some video stuff. It is astonishing how many times the plain old Web is referenced by the most famous news brand in the world. Routinely, Anderson Cooper, John King, and crew pull up all our favorite places on air: YouTube, Twitter, Facebook, and Blogs. It made me wonder… why not cut out the middle man, and go directly to the sources themselves? Many people do. However, CNN, like Fox, and MSNBC, can do things single Blogs and Web publications can not. But there are more chapters to come…
Ego
Loni and I always wonder what the "star" will act like when we meet-up for an interview, or do an ad-hoc, Flip-style "on location" video. Will they kick us in the shins? Smile and run? Or swear at us incessantly while their assistant does their hair so they can Tweet? Thankfully, it's almost always none of those things.
Christy Altomare is a pretty big deal on the Broadway circuit. And not just because she gets topless on stage. She holds the starring role (along with Jake Epstein) in Spring Awakening, the hottest production going (perhaps matched only by not-yet-Broadway, but soon-to-land American Idiot – go Green Day!). She, along with fellow cast member Andy Mientus, were extremely down-to-earth with us as we shot on-the-fly with a Flip Video (which produces decent 720p results, although dark) at an after-party. If I had to do it again, though, I'd probably put my plate of calamari down, instead of trying to balance it with the Flip in the other hand. It must have looked quite ridiculous.
So too was Lilian Klein, aspiring Broadway actor, and a wonderful personality. We shot a fun interview at Aurora Theatre Company up in Berkeley.
No doubt, plenty of ego is needed to get to the top of any profession. But it's nice to see more often than not, these actors, directors, and producers know how to work with new media like SSC.
Of course, we have a few stories where EGO is larger than life. Later, we always shake our heads. It's the hard workers, the relentlessly hard working folks, the motivated, the positive, the sacrifices, the bridge makers (not breakers) that make it. Like poster child, indie-film director Jeffrey Goodman. I hope like hell he makes it, really makes it… a very talented, good guy, with ego in check.
Verizon offers first look at Droid
By Rick Stouffer, TRIBUNE-REVIEW
Thursday, October 29, 2009

Verizon Wireless, Motorola and Google on Wednesday introduced their first smartphone collaboration, the device the trio hopes will dull the luster of Apple's iPhone.

Droid with Google by Motorola is the first smartphone to use Google's Android 2.0 operating system. Fans say the technology makes the device fast and easy to use. There's also a camera application with an automatic focus and a built-in flash that uses two light-emitting diodes.

Guests at a kickoff event yesterday at PNC Park on the North Shore got to try out the phone. Similar events took place in Chicago and New York City.

"Verizon Wireless has put a tremendous amount of energy and money into the Droid," said Avi Greengart, research director for mobile devices at Current Analysis in Washington. "It's their halo product in time for the holidays.

"It's not an iPhone killer, but it will help Verizon Wireless stem defections from its network."

Droid will be available beginning Nov. 6 at Verizon Wireless stores and online for $199 with a new two-year customer agreement. There's a $100 mail-in rebate, and the Droid requires a monthly phone and data plan. Voice package prices vary, but an unlimited data plan runs $29.99 a month.

"Droid features both a virtual and a slider keyboard, a screen with twice the resolution of the next smartphone and 16 gigabytes of memory that is removable," Robb Moretti, Verizon's data sales director for the Pennsylvania-Ohio-West Virginia Region, said yesterday at the PNC Park event.

Verizon has been running TV ads critical of the iPhone, which runs on the rival AT&T network. "This is the biggest threat that Apple has seen," said Clinton Stark, co-founder of the San Francisco Bay Area-based lifestyle Web site StarkSilverCreek.com. "This is a very big step forward for Google."

The Droid also offers built-in Google navigation software, along with support for e-mail systems. "The Google turn-by-turn directions application really is a big advantage," Stark said. "You now have in a handheld device a camera, a social networking device and a GPS."

Verizon Wireless sales for the third quarter totaled nearly $16 billion, and smartphones account for 30 to 40 percent of that, Moretti said. Shares of Verizon Communications Inc., parent of the software company, closed yesterday at $29.95, up 75 cents. Motorola's shares closed at $7.96, up 6 cents, and Google's ended the day at $540.30, off $7.99.