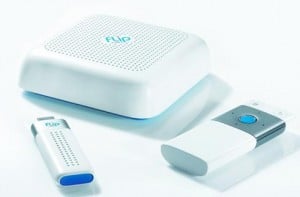 FlipShare TV from Cisco, the makers of the runaway hit Flip Video camcorder, is now available.
Here are some of the reviews below.
Looking for a place to buy FlipShare TV? Try Amazon.
Review Highlights

Engadget: FlipShare TV review
Flip's certainly on to something with the idea of the FlipShare TV, and particularly with the idea of Channels, but for now we'd say you're better off saving that $150 for something with slightly more functionality.

The New York Times: Flip Offers a Wireless Way to Get Videos From PC to TV
The FlipShare TV seems to be an easy and useful, if expensive, way for Flip aficionados to view and share their creations. But at $150, Cisco should have tossed in an HDMI connector.

USA Today: FlipShare TV puts Flip videos on your big-screen TV
Cisco isn't saying much about what's coming next, but Wi-Fi and larger screens may soon appear on Flip camcorders. For now FlipShare TV delivers on Cisco's mission to fairly easily bring home videos to a big-screen TV. Only, the kit needs to be cheaper with fewer limitations.