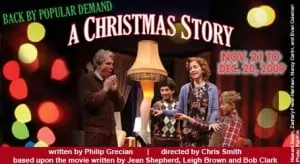 After all that turkey (and the stuffing… oh, the stuffing, and the gravy… and the stuffing), Black Friday shopping and good times with family and friends, what about plans for the rest of the long Thanksgiving weekend?
Might I suggest working off some of those calories with a night on the town? Tonight, 'A Christmas Story,' based on the movie of the same name, opens at the San Jose Rep. It should make for the perfect family outing.
Don't forget on opening nights to indulge a little at the Afters! (the British word for dessert) party and mingle with the cast, artistic staff and other fellow theatre-goers. Afters! takes place in the lobbies of the 1st & 2nd floors following the first Friday performance of each play.