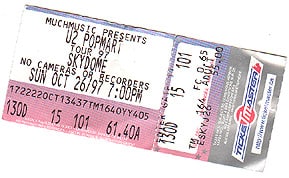 Isn't it fun knowing something your friend doesn't?
And even better when you can make use of that knowledge to win a small wager. In this case, I knew without question that at some point during the spectacle that was U2's 1997 Popmart tour, the band would "delemon" (?) from a giant disco lemon.
As we sat in the SkyDome restaurant the day before the concert, we watched the crew set-up the stage.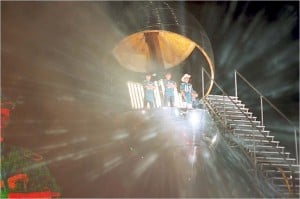 With the lemon ball seemingly miles away form our outfield vantage, it seemed inconceivable at the time that Bono would sway down a set of mirrored stairs singing about a lemon.
Of course, now adays it's routine for the innovative Irish rockers. A lemon is nothing. Now they save the world, play monster shows on 360 degree stages, and, possibly most amazingly, maintain their hair lines.
Also that evening, I temporarily lost my brand new Motorola StarTac phone, which created much concern. The phone cost probably at least $700 at the time and Nortel would not be pleased. Luckily, the next day I found it somehow hidden away in my clothing-a combination of spirited dancing and hopping to "Where the Streets Have No Name" had lodged the phone in a distant land. PopMart was that kind of evening. And, much like holding the first ever Ottawa Sens tailgate party (with no others in attendance), it's a scorching memory.