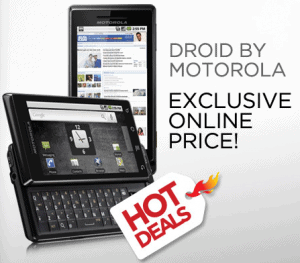 You may have heard about a new smartphone called the Motorola Droid?
You may have also gotten tired already of my incessant cheerleading… blogging about Android this, Moto that.
The phone is remarkable. An iPhone killer, no—again, that requires an iTunes killer first. Content is king. But for now it's the most impressive competitor yet.
If you're on the fence, this week might be a opportune time to find a deal for the Droid. The market is ultra-competitive right now, thanks to the economy and an ever increasing number of mobile products.
Below are some of the best deals I could find online for the Droid.
Stay tuned for upcoming coverage including a complete Motorola Droid phone review, plus we'll answer the question: is Droid (and Google Android) ready for the enterprise?
Motorola Droid A855 Phone (Verizon Wireless) – Amazon.com
Another recommended Android phone, the HTC Droid Eris, is available free from Verizon with contract. The Eris is smaller, lacks the physical keyboard (which many don't like on the Droid anyways) and features the well reviewed and beautiful Sense UI.