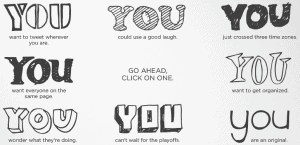 My head has been hurting all week trying to keep up with this madness called Android. The short: Google is taking over the world, again. This time, the mobile one… cell phones… oh, make that smartphones!
I don't need to go into all the details here, since you can find a massive number of Blogs dedicated to the onslaught of new phones running Android including Samsung, Motorola and

HTC. Despite all the buzz about Motorola Droid which releases tomorrow for $199 at Verizon stores, HTC is the most curious story. As in, who are these guys? Why, all of a sudden, are they one of the hottest manufacturers around? Most recently, their Sprint Hero phone has been receiving rave reviews. Not only does it run Android, but it also sports an uber-slick skin crafted by HTC that make the user interface very pretty and easy to use.
So I did some quick Google "research" and found many interesting factoids about HTC, not the least of which is that they are only 2 years old. Amazing! Read on for more, plus my take on the hottest Android phones now available.
Cheat Sheet: Who the heck is HTC?

HTC is based in Taiwan and formally known as HT Corporation
Founded: May 2007
Employees: Over 5,000>
It's run by Cher! – really! – as in Cher Wang, Chairwoman
She is daughter of one of Taiwain's richest men, and she is also acting chair of Via Technologies, of Netbook processor fame… does she have any spare time?
Last year, HTC  manufactured the first handset to run Google Android. The HTC G1 was released September 23, 2008 on the T-Mobile network (it was working at the time)
Tag line: "quietly brilliant" – indeed, it seems marketing is a lower priority then engineering; the strategy is working
# of shipping handsets: 44
Web site: www.htc.com
Hotness Factor: Android Handsets

Verizon

Motorola Droid, $199 (HOT)
HTC Droid Eris, $99 (TOASTY)

T-Mobile

Motorola CLIQ, $199 (WARM, overshadowed by scary Droid brother, and cooling fast thanks to network issues)
T-Mobile G1, $129 (Almost retired, but well respected)
T-Mobile myTouch 3G, $149 (COLD, and lonely)

Sprint

HTC Hero, $179 (Last month's HOT is now COOL, but still cool)
Samsung Moment, $179 (FORGOTTEN?)

Rogers

LG GW620 Eve, $49.99 CDN (HOT, and what a deal!)

AT&T