We all have dreams. But at what cost to score a "jackpot"?
The bell tolls—forewarning atonement, compensation for past injustices, intentional or otherwise.
And, after the fogs lifts in 'Groundswell', the terrifically tense new production that opened last night at the San Jose Repertory Theatre, we are left with a heightened sensitivity to race, oppression and family. If not with a dash of deception and survival instinct.
Set in a tiny coastal town on the jagged edge of west South Africa, the story begins with Thami (Dwight Huntsman), the manager of a guest lodge, writing home to his wife. Pride influences the tone of his letter, telling of "diamond concessions" and success not yet realized. His co-worker, the firecracker, diamond-diving Johan (Scott Coopwood) has a plan he tells the initially reluctant Thami. If only they could find an investor.
"I thought there was a bloody golf course!"
Along comes Smith (Peter Van Norden), a wealthy businessman working on his "retirement wish list" which includes discovering remote golf courses.
With the nearest police station miles away and beset on one side by the sea and the other a desert, Thami and Johan hatch their plan, attempting to persuade Smith with ample wine and bourbon to join in a partnership.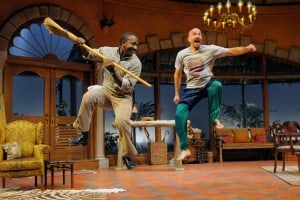 What follows next is magnetic, pulse pounding, stage drama of the highest form. Raw, frenetic.
The layers begin to unravel, and we learn each character's back story. Who bears the largest burden to South African society for the sins of Apartheid? And how will it be measured and enforced? In 'Groundswell', a judge does not rule on these matters.
As the evening progresses, in real time, the tension ebbs and flows. Dogs bark in the distance. Welcome relief occasionally arrives when a door opens, and a fresh sea breeze wafts across the cozy lodge. At sea, the bell still tolls. A storm is coming.
"No stories about peeing in your wetsuit!"
The cast is excellent. Scott Coopwood sets the stage ablaze with a high voltage performance. The word unhinged comes to mind. And intensity. His knife work is like a poetic dance: he woos, then cajols, then threatens, then laments, then subsides.
Peter Van Norden lends a noble air before, then, too, unleashing his simmering anger. Dwight Huntsman, the youngest and least experienced of the three actors, delivers a fine performance as Thami. His smile and hospitable nature come easy. From the jubilation of teaching his friend Johan a South African tribal dance, to revealing his inner dreams, we learn, once again, things aren't what they always appear to be. The wounds of Apartheid run deep.
And under the oppression of the silent fog
The tolling bell
Measures time not our time, rung by the unhurried
Ground swell – T.S. Elliott
Director Kirsten Brandt maximizes each of the performer's potential, and liberally uses the expanse and depth of the stage. She adds wonderful, nuanced poetic moments to the proceedings that effectively balance the intense, weighty subject matter.
A transforming society can be seductive. But it can also expose inner demons as conflicted will and hope mix amongst the backdrop of oppression that possibly re-invents itself under new names and guises.
'Groundswell' is a must-see event. A first rate production that challenges us, emotes us, entertains us. It's the kind of theatre I soak up, savoring every morsel. Definitely, a jackpot.
Noteworthy:

South African playwright Ian Bruce

Frothing wine alert: one of the wines (juice) in the show had fermented and unexpectedly bubbled over, causing the actors to improvise after a tablecloth stained. Scott Coopwood later told us this was not planned, and they don't mark the wines. Dwight Huntsman smoothly swapped the linen; it was one of those fun snafus that adds to the unexpected thrills of live theater.
'Groundswell' marks the 30th production by husband/wife team, David Lee Cuthbert (lighting designer) and Kirsten Brandt (director); from what we can tell, they still talk to each other.
The play is told in near real-time with no set changes and no intermission.
You should see the other guy! Artistic director Rick Lombardo has either run into Cujo, survived a bar fight, lost a golf wager, or practiced knife work with Scott Coopwood…
The Rep is again using a hashtag for Twitter, #SJRground.
Don't miss: photo exhibit upstairs, "Dreams of the Colony", by photographer James Bowyer who was born in South Africa under apartheid; he says, "the images in this collection are an attempt to understand that relationship."
A memorable night. On Tue, Oct 27th, Oriki Theatre will treat patrons to African drumming; following the 7:30 performance of Groundswell, American Leadership Forum CEO Chris Block will facilitate a dialogue "designed to take the audience experience to the next level and explore the play's complex issues and themes in an effort to discover new understanding and opportunities."
Post show discussions: October 17, 18, 24, 25, 31. November 1, 7 and 8 after matinee performances.
Learn more: once again the Rep has produced an informative study guide. Learn about playwright Ian Bruce, the history of Apartheid, The Black Sash, alluvial diamonds, Nelson Mandela, and more. Good reading!
One person after party award: Dwight Huntsman! It was great fun to see Dwight celebrating so energetically with friends and family after the show; for a moment, it seemed like the play was continuing. Job, well done.
Groundswell
San Jose Repertory Theatre
Directed by Kirsten Brandt
Starring Dwight Huntsman, Scott Coopwood, Peter Van Norden
Twitter: #SJRground
by South African playwright Ian Bruce