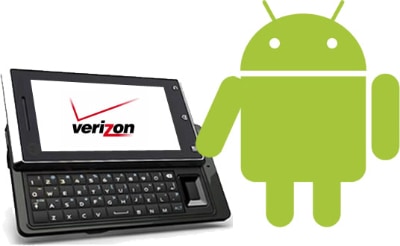 Verizon kicked off its cheeky marketing machine this weekend, trumpeting its new phone, the Motorola Droid. It's expected to give Apple's iPhone a run for the money.
Running the Android operating system by Google, the early word (see BoyGeniusReport) is positive.
The phone, according to the Verizon iDon't ad, offers several features not available on the iPhone: physical keyboard, flash camera, multi-tasking and widgets.
It should be available in November, just in time to put some scares into the competition's holiday sales season.
The specs look mighty tasty:
3.7″ capacitive display (854 by 480 pixels resolution)

5-megapixel camera with flash, autofocus and video recorder

GPS

Wi-Fi

Bluetooth 2.0

Full QWERTY slider keyboard
Another possible bonus it the highly rated Verizon network. iPhone users routinely complain about signal availability and strength on the AT&T network.
Will consumers bite though?
Apple has a mondo-sized app store with fun add-ons, games, productivity tools, guides, and just about everything under the sun. And then, of course, there's iTunes which completes the entertainment ecosystem like nobody's business.
iPhone killer? Probably not. But, a promising second outing for the Google mobile platform.