We're very pleased to be working with the theater and arts community here in the San Francisco Bay Area. More than ever the arts are an important source of culture, entertainment and community. And with Web 2.0 we can create an even more vibrant experience, connecting theaters, audiences, actors and artists together. Exciting times.
With that, I'd like to draw your attention to our new Theater & Arts Guide. In it you'll find the latest reviews, stories, news, and inside information on the scene; from San Francisco and Berkeley to Palo Alto and San Jose. And just about everywhere in between.
We can be light-hearted at times, serious at others, and outright quirky or silly when the mood strikes. But hopefully never dull!

So far there are 11 theaters included (list below), with more to come.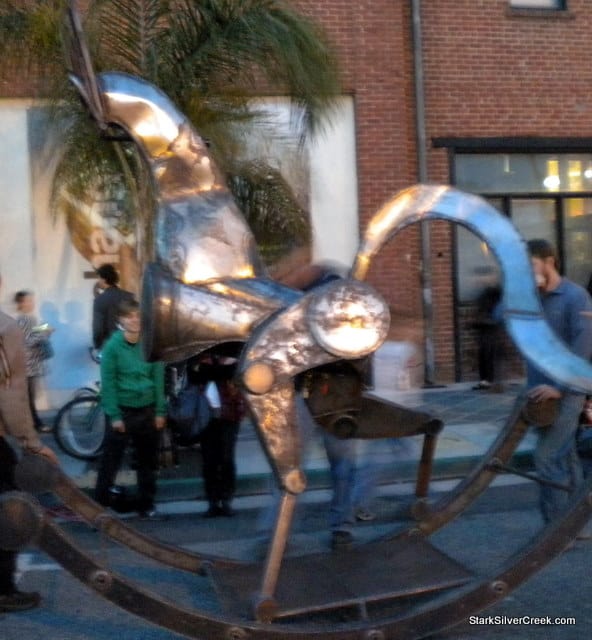 In addition, we have a growing Cinequest section, and increasing coverage of the SoFA scene in downtown San Jose including the Institute of Contemporary Arts (ICA), First Friday Walks, and more.
Where else can you ride a giant metal rocking horse, have your fortune read by a computer ChakraTron, or witness robotic orbs attacking the streets of San Jose?
Thanks for visiting StarkSilverCreek. We hope you'll enjoy the 09/10 theater season, arts scene and film festivals along with us.
Save us a seat & see you at the show,
Clint, Loni and the SSC team.
Theater coverage:

AMERICAN CONSERVATORY THEATRE
AURORA THEATRE COMPANY
BERKELEY PLAYHOUSE
CITY LIGHTS THEATRE COMPANY
COASTAL REPERTORY THEATRE
DRAGON PRODUCTIONS THEATRE
MAGIC THEATRE
SAN JOSE REPERTORY THEATRE
SAN JOSE STAGE COMPANY
SF PLAYHOUSE
THEATREWORKS