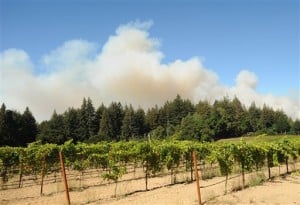 With the grass so yellow, brittle and dry, it's just a matter of time, unfortunately, that we see more Bay Area wild fires. Over the past weeks I've been carefully watching the grass to the East of our home. It runs along the preserve, across the South Eastern foothills and beyond. There are spartan green patches here and there, usually indicative of a watered lawn or golf course.
Every few months, the landscapers cut back about 6-8ft of dry grass from the rear fencing of our home so that a fire would not so readily spread to the home. But I've always wondered how effective that would be.
Meantime, I've been anxiously monitoring headlines and local conditions for the the start of wildfire season.
Sure enough, today at least two wild fires broke out in the area. One in Bonny Doon, the other in Livermore. While the latter is contained and tiny by comparison from what I've read, mandatory evacuations (over 2,000 so far) are being ordered across the Santa Cruz Mountains for a fire rumored to be over 2,500 acres. The swirling and changing winds make matters even more challenging.
What I find most shocking about these fires is the number over the past few years that have been started due to arson. To me, it's astonishing. And the penalty almost can't be harsh enough. The amount of destruction, potential death, not to mention environmental impact and the high costs of containment—all for a State already close to bankruptcy—it boggles the mind that someone would intentionally start a fire.
At Bonny Doon, the on-ground-resources are significant: 2,000 firefighters, 4 helicopters, and 2 air tankers. Wow.
A few years back I remember the nerve wracking flames that nearly engulfed our community. I knew something out of the ordinary was happening when I continued to hear the buzzing of nearby circling planes and helicopters. I quickly realized based on their designations that they were emergency-based vehicles. One helicopter was making round trips to the local lake, scooping hundreds of gallons of waters and then dumping it near the grassy hills just about half a mile down the road from our home. Smoke billowed to the sky. News crews arrived en masse. Home owners switched on irrigation, manned hoses and tried to dampen the ground and earth around their homes as flames marched forward. It was quite the sight. For about three hours the war waged on, and eventually the fire was contained before any homes were impacted. I remember texting Loni the play-by-play while she was in a meeting downtown San Jose.
Pamphlets in the mail remind us that we are still in the midst of a 3-year long draught. The water tables are dangerously low.
Rain, of course, would do wonders. But, for now, the best weapon we have is water conservation.