Not surprisingly, 2008 was a tough time for non-profit theatre houses across the country. The good news is that resident production attendance was higher in 2008 than in 2004, as was single ticket and subscription income.
A report from Theatre Communications Group (TCG) dives deep into the financials of the industry for 2008 based on its survey which includes over 400 theatres. And I mean deep. The 35-page report breaks down income and expense reports, balance sheets and also includes trending data over the past 4 years.
If you want to know everything and anything about the financials and operations of a theatre, this is must reading. For the less financially interested, maybe not so much. This is behind the curtain, dry—but extremely important—stuff.
The mission of TCG is to strengthen, nurture and promote the professional not-for-profit American theatre. They've been around for 45 years, with 460 members, and 17,000 individuals nationwide.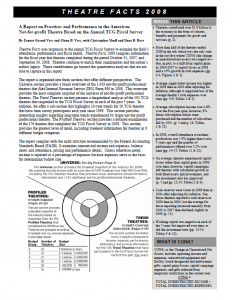 The 2008 survey included strong West Coast representation: 21 theatres from California, 6 Oregon, 6 Washington. In the San Francisco Bay Area: American Conservatory Theater, Berkeley Repertory Theatre, Marin Shakespeare Company, Marin Theatre Company, San Jose Repertory Theatre, Shakespeare Santa Cruz and TheatreWorks.
Some of the key highlights:
Theatres contributed over $1.8 billion to the economy
In 2008, not-for-profit theatres presented the creative work of 83,000 professional artists to 32 million audience members.
More than half of the theatres ended 2008 in the red
Average subscription income rose 2.6% over the five-year span, however, 8% fewer subscription tickets were purchased and the number of subscribers fell by 10%
In 2008, overall attendance at resident productions was 1.9% higher than it was 5 years ago and the number of performances offered rose 5.2% over time
Here is a link to the full report (PDF download): Theatre Facts 2008
[Source: Theatre Communications Group]