I always admire people who can poke fun at themselves yet deliver a serious message. That's exactly what David Henry Hwang does with his mockumentary 'Yellow Face' and there is a lot to admire here. His narrative, which casts himself at the center of a part-reality, part-fictional account of the accidental casting of a Caucasian as an Asian star in one of his plays, successfully walks the line between comedy and drama.
Listen to Clint discuss the play:

https://www.starkinsider.com/podcasts/postaudio/YellowFace.mp3
The material is multi-layered with politics, Broadway, relationships and, yes, race combining into a melting pot of ambiguity and sharp-witted dialog.
Beginning in the 1990s, we see the world from DHH's (Pun Bandhu) eyes as he looks for his next hit after the success of M. Butterfly. But not everything is easy. His successful, James Stewart-adoring-Dad HYH (Francis Jue) would prefer he join him in the world of banking. And finding a strong Asian American lead for his new play is not easy. That's when Marcus (Thomas Azar) walks into the fray. He has the looks, the acting chops, the mojo. But is he Asian? If not, would Siberian Jew suffice?
After publicly criticizing the similar real-life casting of Jonathan Pryce in a Eurasian role in 'Miss Saigon', David Henry Hwang finds himself in the very same predicament when he casts Marcus G in a lead Asian role. Cover ups ensue. There is public outrage.
But then race seems to matter less, and only what the larger than life, Yul Brynner-like Marcus G says matters anymore. After all, race is no longer about stereotypes in this day and age.
Does he "put butter on his rice"?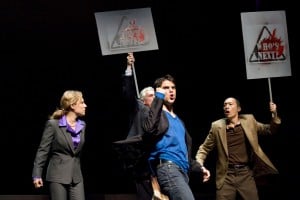 The first act veers towards farce with a dose of light-hearted political commentary (including mentions or cameos by John Kerry, Bill Clinton, Oliver North and Fred Thompson). The second half pours on the drama and digs deep into the issues of race, loyalty to country, and even ethics in journalism.
A superb showdown between DHH and a New York Times reporter (Robery Ernst) who threatens to potentially expose him in a piece about his role in banking corruption, brings the play to a boil. Is a playwright that different from a reporter? Although one may start with fiction and the other with fact, perhaps both arrive at a form of truth.
Race, and especially life as an Asian American, figure prominently in the dialog. Hwang's play does not lecture. Instead he paints all his characters—regardless of race or gender—with moments of quandary amidst those of revelation. In the words of HYH, before drifting towards the light, "nothing which lasts is ever pure."
The acting is strong, lighting and music, subtle yet moody.
Francis Jue and Pun Bandhu were crowd favorites. Francis received a rousing response during the curtain call. And justifiably so. He commands the stage, emotes with seasoned control and elevates those around him. Once warmed, Pun zigged and zagged across the stage, pulling his spiky hair. His expressions were priceless, especially when accused of being a "fake Asian."
My only criticisms are minor. Perhaps a few too many scenes involve actors communicating by phone, or as announcers reading out newspaper headlines. Instead, they could be interacting directly face-to-face which could further heighten intensity. Also, maybe it was opening night jitters, a few lines here and there were flubbed, ever so slightly. Again these are easily overlooked.
The ending was simple and effective; it did not attempt a heavy-handed moral or political send-off. Instead we are left alone with the playwright, feeling inspired ( "he made his father's dreams his own" ), moved that indeed the world, when it comes to multiculturalism, is open to new possibilities—and a few laughs too.
With 'Yellow Face', TheatreWorks delivers a top notch theater experience with sharp, contemporary dialog.
Noted:

That Coldplay's song "Yellow" played pre-show and at intermission did not go unnoticed
The Mountain View Center for the Performing Arts is bigger (589 seats) and the sight lines are better than the Lucie Stern theater in Palo Alto, although Loni says it feels somewhat "civic"
Once again, TheatreWorks puts on a top drawer opening night; champagne reception and post-show meeet and greet with food & wine
What others are saying:

San Francisco Chronicle, Race issues explored and mocked in Yellow Face
Hwang almost succeeds in making us laugh race into well-deserved oblivion.

San Jose Mercury news, Color-coding the American dream
"Yellow Face" absolutely reverberates with irony — and more than a few laughs and tears — as it explores connections between the American dream and racism.

Metroactive, Identity Drama
The small cast in Yellow Face play an astonishing number of roles each. They include Bay Area theater veterans Howard Swain, Robert Ernst and Amy Resnick, along with newcomer Tina Chilip. Under the masterful hand of founding artistic director Robert Kelley, they switch races, sexes and voices with the flash of spotlights on the simple, tasteful multilevel stage.

San Francisco Examiner, Intriguing identity politics in 'Yellow Face'
It's all part of Hwang's clever, metatheatrical device, and for the most part, in TheatreWorks' current staging of the show, it works beautifully, with moments of hilarity and of poignancy and plenty of meat to chew on.