Nothing like dogs to get people talking, commenting and sharing stories and advice!
Loni and I put out the word, by email to family and friends. And also to the social networks, using (of course) Twitter and Facebook. We were looking for suggestions on breeds, advice on buying, background research, things to think about, etc.
It was finally time. We were ready to finally bring a dog into our lives. Exciting. I grew up with a warm, friendly, energetic little Cairn Terrier "Hamish". A Terrier would definitely be on our short list. Then Loni heard good things about the Schnoodle, hypoallergenic a plus.
We received a lot of useful, fun and helpful feedback by email, Twitter and Facebook.
My sister in Toronto has two German Shepherds and she has trained Bosco to become a world-class "dockdog", often placing in the top in competitions across Canada and the US. Some of her tidbits of advice:
Another amazing jump by Bosco, Sheena cheers on

Young puppies are adorable and fuzzy and cute and all that, but they are like infants, and require a lot more work -they need to pee all the time, like every two hours or so, depending on the age and size of the puppy. At 9 months, they are still cute and puppy-ish, but require slightly less work.
How much time do you want to spend with a dog, training and exercising -be honest, because it *will* make your life much happier if you get a dog who's exercise requirements are met……a tired dog is a good dog -and puppies and young dogs are always going to need more!
Whatever you do, please please PLEASE never buy a puppy from a pet store. Never. Ever. Ever…No matter what!
If you want a cute little mix, go to the humane society and see what they have….people who breed mixes, especially those poodle mixes, are not on the up and up. they are looking to sell what is essentially a mixed breed dog, at inflated prices purely for profit -not taking into consideration, any health clearances and temperament testing that most/all quality breeders do.
Boston Terriers are cute little guys -lots of personality and not too big, nor would it require an unreasonable amount of exercise.
Miniature Schnauzers are a nice small-ish dog.

Friends of the family: Baxter, Havanese, on left. Sophie, Bichon frise on right.

My friend has a sheltie that is a cute little dog, very active, but not insane -you'd have to make sure you found a good breeder, otherwise you might end up with a bit of a yappy dog.
Westies -of course, a relative of the cairn, they are adorable…..
I love corgis -if i was in the 'market' for a small dog, i'd get a corgi…so cute, but still active and hardy.
Another good little companion that wouldn't require much more than a stroll to the mailbox….a French Bulldog -although bulldogs can be stubborn, and sometimes challenging to train, they are cute little companions.
On Facebook: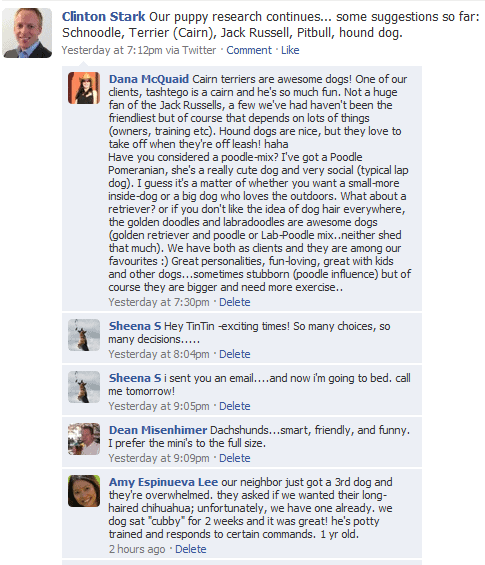 It's all so helpful, really impressive to get so many suggestions!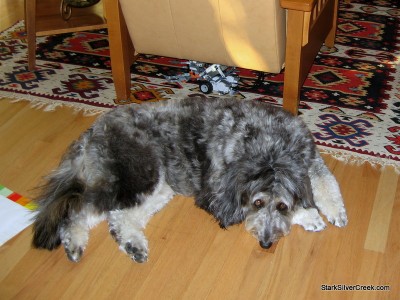 We're still trying to source the breeder. We've settled on a small dog 10-15 pounds since our yard is not large. We have plenty of parks nearby though. Our travel schedules are hectic, but usually one of us will be home to take care of the dog.
So there you have it… I'm sure we'll be writing and updating more soon, including photos of our new dog adventure, years in the making.
What do you think? Any more advice, suggestions, stories, photos…?