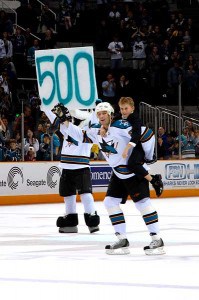 What a classy ending.
That was my first reaction to Jeremy Roenick, one of the NHL's most colorful and talented players, officially announcing his retirement at the HP Pavilion here in San Jose.
A few years back, the ending of his hall-of-fame caliber career didn't look so rosy. Under-performing and bouncing around from one forgettable stop to the next in cities such as L.A. and Phoenix, before finally getting a wake-up call from his old roommate Doug Wilson, the Shark's GM. Word had it that Roenick wasn't exactly in game shape, physically or mentally, perhaps spending more time on the back nine, or enjoying an extra beer or two.
With San Jose it wouldn't be about money.
"This is a great day for me," Roenick said. "I had the greatest career I could possibly imagine. My body can't do it any more even though my head and my passion are still in the game. I know, truly in my heart, it's time to leave the game."
Roenick would take a huge paycut, and earn a rookie like salary. The competitive spirit still simmering, he would revive his career in almost storybook fashion. In the process, he would redeem himself, make Doug Wilson look like a genius, and demonstrate the on and off-ice class sadly lacking in many of today's sports superstars.
One memory in particular stands out. I was watching a regular season Sharks game. But when Roenick shot the puck in to the zone, and after a crazy bounce, found the back of the net, it was by no means a regular game. It was his 500th goal. Placing him third all-time among American-born players.
But what I remember is JR and his son. After celebrating briefly with the crowd and teammates, he skated to the bench and lifted his awaiting son onto his shoulders. He then skated around the ice, his son on his shoulders saluting the crowd. A classic hockey moment. It still sends shivers down my spine to this day.