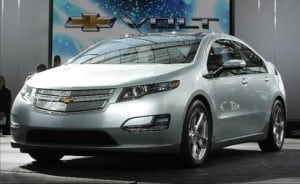 General Motors claims the new Chevy Volt will get 230 miles per gallon (yes, on one gallon!) in the city. Wouldn't that be something, if GM, of all companies, somehow found a way to turn the neophyte hybrid industry on its collective ear?
If these claims are true, it would make the Volt about four times more efficient than the darling of highway 101 car pool lanes, the hybrid Toyota Prius.
Even better, according to GM, the Volt can be recharged using a standard electrical outlet.
Testing is continuing for car which should be released in later 2010.
Many prospective buyers are concerned over the premium sticker on the car, and the life expectancy of the batteries, which could prove costly to replace. GM says that tax credits up to $7,500 could ease the price, and that future versions of the Volt will be less expensive. Regarding battery life, current estimates are at 10 years.
I hope that GM knocks it out of the park with the new Chevy Volt. The headlines alone would be a huge relief.
Positive news in the U.S. auto industry for a change would be welcome, and earn back some much needed respect. Also, Washington would look perhaps even wise with its bailouts. Maybe. Time will tell, and there are no doubt many more hurdles to come, not just before the Chevy Volt hits the market, but also before the auto industry gets back on its feet.