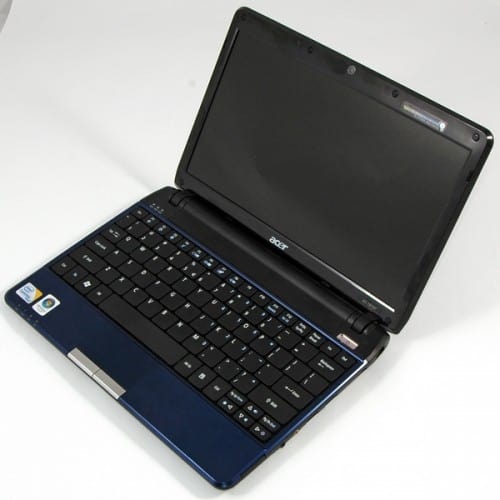 The Acer Aspire AS1410 (known as the 1810T overseas) is now available for purchase from Amazon. At least, in blue for now (Ruby Red and Black to follow).
The 1410 sports the increasingly popular 11.6-inch screen size with widescreen 1366×768 resolution , 1.4GHz Intel CULV Core 2 Solo SU3500 CPU, 6-hour battery, 250GB hard drive, 2GB RAM, 802.11b/g/n WiFi, and integrated GMA4500HD graphics. Price: $449.
Manufacturers now seem to be pursuing a new line of thinking when it comes to netbooks. 11.6″ may be the new 10″.
The slightly larger form factor enables them to provide larger keyboards and screens. Just large enough perhaps to ease some of the squinting and scrolling required on the smaller units. Also significant of course is that this new wave of netbooks (laptops) will ship with Intel's new CULV processor which is more powerful than the aging Atom, but draws less power than a conventional CPU.
Dell recently discontinued its Dell Mini 12, and introduced an Dell Mini 11. So far, I haven't seen announcements from HP (10″ only) or Lenovo (10″ and 12″ – S12 review) for new 11-inch models. Although Lenovo does have two CULV-based model in its lineup with the U350 13.3″ (review) and the U450p 14″ thin-and-lights.