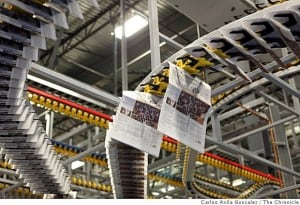 Here's a European twist on the standard newspaper trend piece. Usually we hear about things like Kindle when talking about next generation newspaper delivery.
Starting today, however, the San Francisco Chronicle is delivering a glossy—or "high-definition"—look to the newspaper. No tech gadgets required.
Following in the footsteps of several overseas big-city newspapers, the new format will employ a full-color press which will allow for magazine-like quality. In addition, the paper will be shorter and narrower, pleasing bus and train riders everywhere.
Expectations are realistic for the new format and not expected to turn around the rapid transformation of the industry to the Internet. According to publisher Frank J. Vega:
"Even though newspapers are going through a traumatic period, we think there's still a place for ink on paper," Vega said. "We're going to have what will arguably be the best presentation in the world as a daily newspaper. … People are going to reacquaint themselves with newspapers."
The technology behind the production is impressive. Here's a short video that explains some of the wizardry it takes to deliver the sizzle.
I am looking forward to a hands-on review. Possibly the best feature I'm guessing: no more smudgy, inky hands after the morning read. My clothes (and girlfriend) will thank me for that!
[Source: SFGate.com Wrinkle-free era begins with new printing press]